Relationship Compatibility Horoscopes: How to Capture Spring Fever
When it comes to Spring Fever we all want a little bit extra. Especially when it comes to romance! And with our magical Spring launching with some exciting eclipses, a lucky Spring Equinox, and Jupiter in Leo coming out of retrograde, there is certainly enough energy for all zodiac signs to get lucky this Spring, especially in the area of love. Does your relationship compatibility need a boost? Or do you just need more romance altogether? If so hang on tight and get ready for an exciting ride on the magic carpet of spring romance. This kind of spring fever is one fever where you won't mind when the temperatures get kicked up a notch. Are you ready? As we are all under the same transits this Spring we will group our love horoscopes by the element with special tips for each zodiac sign! Here are your relationship compatibility and love horoscopes for spring 2015.
Fire Signs: The Power is Up for Grabs
When it comes to Spring Fever, the Fire Signs are in for some surprises this Spring and for Leo, Aries, and Sagittarius, the power is up for grabs. That means Fire Signs need to do what Aries does all year long and take control of their romantic possibilities. The leadership and bold moves of Aries should be modeled by both Leo and Sagittarius when it comes to romance. Is love not working for you, Fire Signs? Then it is time to take the initiative and make the changes you need to make yourself. Fire is all about courage and bravado and lighting a spark on your wildest dreams.
No matter what your relationship status is, Aries, Leo, and Sagittarius, light the fire yourself. What do you want? It's time to go after it.
Aries you have a number one in mind and it's time to make a move before you lose this opportunity. Leo has Jupiter in Leo to thank for some extra luck in love this spring, but needs to do some initiating to make that happen. Sagittarius heart is wandering this Spring. That means if you want change, and start looking now, you will be successful. Just be sure to tie up some loose ends first, Sag!
Discover: Your Must-Have Spring Home Accessory, Based on Your Zodiac Sign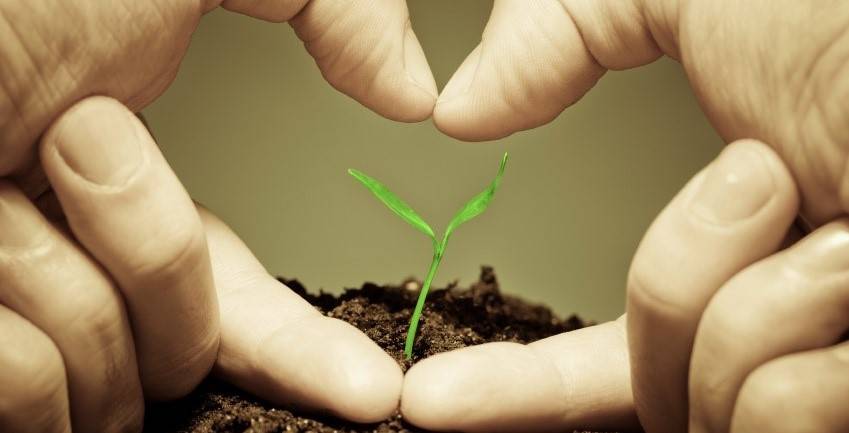 Earth Signs: Don't be Afraid to Get a Little Dirty!
Earth Signs are really feeling the love right now because they've been waiting all Winter long for this season. Taurus is feeling tickled in the garden and Virgo is already planning the Fall bulbs. Capricorn on the other hand is planning for the fourth quarter with money on the brain. Earth Signs that want to see an elevation in relationship status need to think less, and feel more.
Taurus will feel more Spring fever when they get their nose out of the garden king enough to sniff who wants to share that time with them. Look up to smell the roses, Taurus. Your relationship, or desired relationship is closer than you think, but that doesn't mean you can't still get your hands a little dirty. If you're paying attention, a lucky partner is waiting for an invitation.
Virgo needs to be less picky when it comes to harnessing the romantic bug of Spring fever. Stop overthinking, Virgo! Capricorn will find romance outside of the office this time of year. Put your cell on silent when you socialize Capricorn, and your dates and mates will feel more appreciated. And that's all they want! Earth Signs simply need to relax and enjoy the season and not work and think so hard when it comes to catching Spring fever.
Air Signs: Let Your Freak Flag Fly
Air Signs are up for an exciting Spring when it comes to love and catching Spring fever! These are the one set of zodiac signs that get the green light to use head over heart in all things romance. That's because Air Signs do best when they think first and feel later. And that is basically your rule of thumb if you want to feel the heat of Spring fever! Lead the way in love with your head, Air Signs, and think as outside the box as you can if you want the love bug to bite!
Libra needs to watch their tongue most or they will criticize to a fault. This will cool things down in love, Libra and not in the good way! Use your saucy side to your advantage in love, Libra, and leave game playing to behind closed doors. Gemini is faced with some tough choices in love this Spring, but that is nothing new for Gem. The first person your mind wanders to is the natural choice, Gemini, and use your wit to catch this fever.
Aquarius is going to feel the love from ruling planet Uranus this Spring and that means, let your freak flag fly, Aquarius! The more unconventional or out of the box your romance plans, the more likely you will succeed! All Air Signs need to spend time outside on romantic dates, whether you are single or planning date night with your spouse of 50 years. Feel the wind in your sails, and Spring fever is yours for the taking!
Water Signs: Game On, Bring It.
Water Signs are ready for some Spring lovin' after a long, cold Winter and are ready to bring it when it comes to the game of love right now. Anyone that finds their lucky souls in the path of a Scorpio, Cancer, or Pisces this Spring is going to find relationship compatibility as easy as it comes. The Water Signs are soooo ready for some Spring fever, which means all other zodiac signs will need to bring it for the Waters because they literally have their pick of the pudding this Spring. But, they will need to watch their strategy as well. And Water Signs, make a note on your list to do look your best at all possible times because we really mean it when we say it is right around the corner, and you'll know when.
The key for Water Signs to catch Spring fever in their relationship compatibility will be to do what Spring does. And that's, do something! Water Signs are gifted with intuition and psychic senses that nobody else can understand but Water Signs. So these zodiac signs have a bit of a tendency to take love for granted, even when they are single. This is because they feel their way through life and always feel love is right around the corner. They also are a little more slow moving, despite their disdain for Winter, and for many it is hard to peel off the couch even on the nicest days.
But this Spring, Scorpio, Cancer, and Pisces need to actually turn that corner if they want to come face to face with love. Waiting for love to come will not work for the Waters. Scorpio needs to leave the past in the past and move forward once and for all. Use your third eye if it feels blind, Scorpio, it never fails you! And don't stay so fixated on one prize, there are seven billion humans on the planet after all.
Cancer is going to need to take the lead on love this Spring or Cancer will be waiting a while to catch Spring fever as well. Plan a date night with all of someone's fave recipes, Cancer and watch it become a regular thing! Pisces needs to stop wandering for love and realize it's been right in front of them all Winter long. What direction is your heart pulling, Pisces? It's pulling you right!
And there you have it! No matter what your zodiac sign is, or your partner's or crush's is, these relationship compatibility horoscopes are all you need to do to catch Spring fever this year! Have you caught the love bug yet? What are you planning to be sure you have caught spring fever in romance?
Did you enjoy this article? Please share it with your friends!
Next Article
You might also be interested in
---
Virgo season is about to commence dear friends! Tomorrow, the Sun moves into Virgo, the practical Earth sign who governs work, the details, and daily life. Virgo season is the… Read Full Article »
As we are in the depths of Scorpio season, it is only appropriate to honor the sign from which this time of year dignifies! You may be thinking to yourself: "I'm not a Scorpio… Read Full Article »
Did you know there's an invisible force that powers everything? And when you understand how to "harness" it ... you can bring about powerful healing for yourself or others!… Read Full Article »