What do the images in my birth chart mean?
To you, they may look like a lot of lines and squiggles. To an astrologer, the images in your birth chart are a map of who you are. Every squiggle, every line, every angle means something, and a competent astrologer has taken years to learn what they mean and how they all gel together. Some of it is harmonious, and some of it is challenging, but it all works together to make you who you are. Some of the images will represent different planets. These are the marks that are inside the double circle, and which have lines connecting them to other images. Every planet represents different energies and traits. Every line positively or negatively influences the way that those qualities manifest in your personality.
The images on the outside circle are the signs of the zodiac. Every sign has it's own personality. Also, every sign has a ruling planet, and it's own set of qualities and elements. Where those signs fall in your chart will impact different areas of your life, and color the way that any planets in that area behave.
The lines that link the planets together are called aspects. These show the astrologer if those planets are working together in harmony, or if there's a discord. You're much more than your Sun sign, and a reputable astrologer will look at your chart, and help you to understand just who you are. The more lines there are between the squiggles in your chart, the more there is for the astrologer to interpret. This is why sometimes your Sun sign's traits don't match your personality.
Get Your Free Horoscopes Here
Want to Know More About Your Zodiac Sign?
---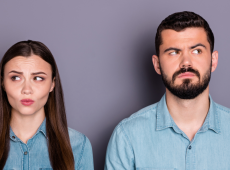 Ah, zodiac love! Inevitably, some zodiac signs are more compatible with one another than others. And looking at how your zodiac signs measure up can help you determine if this… Read Full Article »
What happens when the fiery archer of the zodiac connects to the emotional, intuitive energy of the Moon? Magic happens! And that's what we're here to talk about today - the… Read Full Article »
​Welcome to the beautiful October, lovelies! This month starts the fourth and final quarter of 2022, which creates an encouraging and supportive environment of change and… Read Full Article »