What's the difference between a Sun sign and a zodiac sign?
That's a good question, and the answer is that there's really not that much difference at all! A Sun sign is simply the sign of the zodiac where the Sun was when you were born. Obviously there's only one Sun and it can only be in one place at a time, so you're only going to have one Sun sign.
However, the Sun will travel through each sign of the zodiac throughout the course of a year. That means that, whenever someone was born, their Sun sign is the sign of the zodiac that the Sun was in on their birthday.
There are 12 zodiac signs in all, and these are divided into three qualities and four elements. Every quality has a different element, and every element has a different quality, so no two signs of the zodiac share exactly the same element and quality. The qualities are cardinal, mutable, and fixed. The elements are fire, earth, air, and water. They're distributed through the signs like this:
Aries: Cardinal / Fire
Taurus: Fixed / Earth
Gemini: Mutable / Air
Cancer: Cardinal / Water
Leo: Fixed / Fire
Virgo: Mutable / Earth
Libra: Cardinal / Air
Scorpio: Fixed / Water
Sagittarius: Mutable / Fire
Capricorn: Cardinal / Earth
Aquarius: Fixed / Air
Pisces: Mutable / Water
You'll see that no combination repeats itself and all the qualities will have something in common, and all the elements will have something in common. The best way to know how they really work together in your chart is to have it interpreted by a reputable astrologer.
Get Your Free Horoscopes Here
Want to Know More About Your Zodiac Sign?
---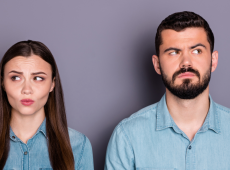 Ah, zodiac love! Inevitably, some zodiac signs are more compatible with one another than others. And looking at how your zodiac signs measure up can help you determine if this… Read Full Article »
What happens when the fiery archer of the zodiac connects to the emotional, intuitive energy of the Moon? Magic happens! And that's what we're here to talk about today - the… Read Full Article »
​Welcome to the beautiful October, lovelies! This month starts the fourth and final quarter of 2022, which creates an encouraging and supportive environment of change and… Read Full Article »