Daily Tarot Reading
Prepare for your day with an energetic reading from the Universe. This is a daily Tarot horoscope, determined by the card is drawn by our experts to give a general insight into what to expect today. Look into the meaning of the Tarot card reading and look to your life today and tomorrow, the answer is right in front of you.
Shuffle your tarot deck and check back every day to gain insight into what the Tarot and Astrology have in store for you. Is it love, career success, or daily tarot guidance? What better way to start your day than a general free tarot reading and a glimpse at the cosmic vibe?
Have a personal question for the Tarot? Scroll down for more free 3-Card Tarot readings.
The Tarot Card of the Day is...
Reading
Aces in the Tarot are all about new beginnings, and pentacles are all about security and stability. But pentacles also represent the physical world, and that could be anything from finances to sexual matters. Whether you are asking about love or money, the Tarot is giving you a wonderful omen when the Ace of Pentacles appears. In love, you know from this symbol that someone feels very grounded with you and sees you in it for the long haul. They are in it for the long haul too, and not only is this a caring relationship, but also a sexually satisfying one, one that will last for a long time.
In work or money matters, a new resource is on its way to you. That could be a financial bonus, windfall, a new job, or even a new home. You may just be starting something that embodies new learning as well, as the cloud of enlightenment is here as well. We also see the stability of mountains that have stood the test of time in the background with an archway surrounded by wreaths of victory. The Ace of Pentacles arrives to let you know that success is yours for the taking and a new beginning is on its way. A new foundation is very likely.
More Tarot Reading
Reveal Your Past, Present and Future Cards by
Clicking 3 Cards Below
Let These Tarot Readings Help Guide You Through Your Day
Must Read Tarot Articles
---
We consult the Tarot every day for the widest range of things — our curiosities on love, the latest work drama, our lingering heartbreak, or whatever else may be on our minds.… Read Full Article »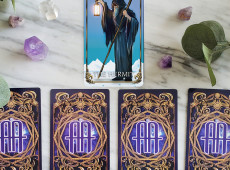 The Hermit is one of those cards in the Major Arcana of the Tarot that can be baffling to many. Is it because, in many decks, a lone figure stands in the darkness holding a light… Read Full Article »
Associated with the element of Air and the aspect of the mind, the suit of swords in the Tarot is often feared and misunderstood. Many of these cards are intense, challenging, or… Read Full Article »
Daily Tarot Reading
Enter your email address below to receive our daily Tarot reading in your inbox.
Your email will be used to send you your free astrological reading, along with ongoing communications regarding your zodiac sign.
x