taurus Daily Horoscope
Sep 19, 2021 - People want to see you succeed today, Taurus, so don't be scared to ask for help if you need it. The intuitive Moon is moving through Pisces and your 11th House of social groups and global communications, which means there's an audience for any ideas you might want to crowd source, and you'll probably like any feedback you receive thanks to a harmonious beam from luxury-loving Venus currently camped out in Scorpio and your 7th House of one-on-one relationships.
During this tour Venus is blessing not only your partnerships but also your business contracts, so if you've been looking for a new crew to join up with, today could present you with the perfect opportunity to sign on the dotted line. The stars are coming together to offer you an incredible opportunity, Taurus, so take a chance on people today and believe that the planets want to help you move up the ladder of life.
Sep 18, 2021 - You've been out running wild with the horses for so long, Taurus, but maybe it's time to start thinking about reeling it all in and coming back to the ranch to wash up and get ready for another day on the farm.
No one is saying you need to lose that incredible spirit and set of metaphorical wings that have been pushing you along lately, if anything you should keep that energy close to you and utilize it as your life begins to shift and you see a new pattern begin to emerge with a clearly defined road in front of you and everything. Something is coming your way, and you should be ready and rested for when it comes because from the look of things the world will be sitting back and waiting for you to make your mark among us all.
What have you learned from running with the horses, and what about it can you teach the rest of us?
More Horoscopes For
taurus
Daily Horoscope Video with Debra Silverman
More Daily Readings
Daily Tarot Reading
10 of Pentacles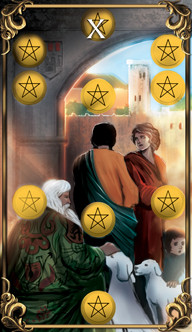 10 of Pentacles
On its face, the 10 of Pentacles appears to be a fairly simple card to read, but its rich symbolism encourages you to take its face value a little deeper into the situation at hand today. 10's in the Tarot are all about completed cycles, and so the 10 of Pentacles is telling you today that you've…
Let These Tarot Readings Help Guide You Through Your Day
Daily Gemstone & Crystal Reading
Labradorite
Labradorite Labradorite can be used to balance and protect our aura, as well as, it is often used to promote intuition and higher consciousness. This crystal is especially potent for Leos, Scorpios, and Sagittarius as they embrace their inner desire for change and growth, this is associated with its affirmation is, "I embrace transformation in my life." Its primary chakra is the Third Eye Chakra, connected to… Get Your Reading »
Want to learn more about crystals and gemstones? Let us help you!
What's Happening In the Universe Today?
---
2021 has been a powerhouse of retrogrades, intense Full Moons, and, well, just intense stuff in general (and that's putting it lightly). This September, we have another… Read Full Article »
Whether you've already been having an emotional and spiritually potent year or not, the Full Moon in Pisces is ready to bring those themes to the forefront here and now. The… Read Full Article »
Are you ready to start a season of abundance? Libra season is here again to usher in themes of balance, negotiation, harmony, and social connections. But what about wealth?… Read Full Article »
Daily Horoscopes
Enter your email address below to receive your daily horoscope directly to your inbox.
Your email will be used to send you your free astrological reading, along with ongoing communications regarding your zodiac sign.
x