taurus Love Horoscope
May 19, 2022 - The Moon is in Cap and in your 9th house, however it is squaring Venus in your 12th house today. This configuration is emphasizing how being transparent with your partner about the things that you generally don't share with others helps you achieve more connection and fulfillment within the relationship. 
We are so conditioned to keep certain things to ourselves because otherwise we would supposedly be judged or ostracized by others. However, having such beliefs in your partnerships makes it much harder to have a spiritual connection with your significant other. 
Also, what are your unconscious negative patterns in relationships that end up sabotaging them? Having similar life beliefs and philosophies with your lovers generally helps you work through those things a lot easier.  
May 20, 2022 - The Moon is in Aquarius and in your 10th house today, this is bringing the focus on the public and external aspect of your relationship. Is the image that you present to the world of your romantic partnership an accurate portrayal of the reality of it?
We are so conditioned to hide the "negative" or harder parts of our lives, including our relationships from the outside world. However, there can be something incredibly cathartic and healing when we are honest with the world about the things we are going through in our intimate connections.
This provides you and others with the ability to relate to one another and offer each other possible helpful input on what you're experiencing.
Also, in regard to the more positive parts of your romantic partnerships, when you have a beautiful relationship with your lover, allowing others to experience that is an inspiration of what healthy partnerships can look like.
More Horoscopes for taurus
May 19, 2022 - Things might seem a little fuzzy today, so be careful where you're spending because chances are you can lose track. Luxury-loving Venus is currently in your 12th House, and while the money planet is moving… Get Your Horoscope >>
May 19, 2022 - Today the Moon is moving through your boundless 9th House of endless horizons and foreign cultures. It might be difficult to get a read on your intentions, passions, and ambitions, however, thanks to a tough… Get Your Horoscope >>
May 18, 2022 - Have you been keeping your fire hidden from the world? With Jupiter gliding through your secretive 12th House you might feel as though your mojo has taken a temporary leave of absence, but today's stars call… Get Your Horoscope >>
Discover Your Love Horoscope Compatibility
Is romance and love on the table in your relationship? Whether it's your current partner or someone you have feelings for, your zodiac sign can tell you so much about your love life.
Find out how compatible you and your love-interest are!
Love & Astrology Articles
We have a few planetary movements of note happening this week. First, Mars, ruling over our drive and ambitions, will move into its home turf of Aries on the 24th. And towards the… Read Full Article »
Brace yourself for a surge in energy! (And we're not even talking retrograde or Eclipse season! On June 27th, 2022, Mars, the planet of energy and drive, moves into its home… Read Full Article »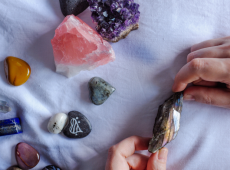 The sociable, quick-witted, and intelligent folks born in the sign of Gemini tend to have brilliant advice-givers among them. If you have a problem, turn to a Gemini, and a… Read Full Article »
Daily Horoscopes
Enter your email address below to receive your daily horoscope directly to your inbox.
Your email will be used to send you your free astrological reading, along with ongoing communications regarding your zodiac sign.
x