taurus Career Horoscope
Sep 18, 2021 - Community is such a determining factor of whether you experience joy or fulfillment at your job. The Moon is in Pisces today and in your 11th house. 
This is highlighting the nature of your relationship to your coworkers. Do you have an easy time working with others? Are you good at delegating? Do you get the sense that the people you work with are striving towards the same visions and goals as you? 
These are all relevant equations to ask yourself today. Keep working towards making all those things a part of your reality at work, specifically in relation to others. 
Sep 19, 2021 - Today is a good day to reflect on the nature of your work community. The Moon is in Pisces and in your 11th house. How connected do you feel to those whom you work with? 
Do you have a sense of community in your work, this feeling that you're working alongside others who share the same vision as you do? 
If not, then find out how you can change that. Maybe you're a loner who prefers to work alone if that's the case practice l
earning reaching out to others more often. This is a good day to work towards improving your teamwork skills. 
Sep 20, 2021 - Do you have an easy time working in groups? Do you have the sense that those whom you work alongside are striving towards the same goals as you are? These are pertinent questions to meditate on today as the Full Moon in Pisces is happening in your 11th house. 
If you don't feel like either of those things are true, ask yourself how you can change that. Also, its so important that when you do work with others, that you don't lose touch with your own personal, unique and creative vision. 
True magic happens when you're able to combine your creative voice with other people's, when you give both yourself and the other permission to express your uniqueness. 
More Horoscopes for taurus
Daily Horoscope Video with Debra Silverman
Daily Tarot Reading
10 of Pentacles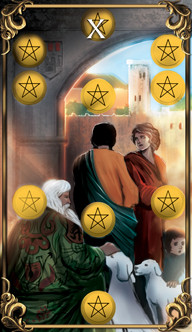 10 of Pentacles
On its face, the 10 of Pentacles appears to be a fairly simple card to read, but its rich symbolism encourages you to take its face value a little deeper into the situation at hand today. 10's in the Tarot are all about completed cycles, and so the 10 of Pentacles is telling you today that you've… Get Your Reading »
Let These Tarot Readings Help Guide You Through Your Day
Daily Gemstone & Crystal Reading
Labradorite
Labradorite Labradorite can be used to balance and protect our aura, as well as, it is often used to promote intuition and higher consciousness. This crystal is especially potent for Leos, Scorpios, and Sagittarius as they embrace their inner desire for change and growth, this is associated with its affirmation is, "I embrace transformation in my life." Its primary chakra is the Third Eye Chakra, connected to… Get Your Reading »
Want to learn more about crystals and gemstones? Let us help you!
taurus

Compatibility with other signs
---
You might also be interested in
---
There are many tools at your disposal when it comes to self-improvement and working to heal yourself. There are just as many tools you can use to manifest abundance. Our Health… Read Full Article »
So, Mercury is in retrograde, and you're worried about your mental health. The computer stopped working properly, your phone is acting up, communication is in disarray, and your… Read Full Article »
Minor Arcana cards displayed with the Modern Witch Tarot Deck. Astrology and the Tarot go hand in hand with as rich of a relationship as peanut butter and jelly, both helping us… Read Full Article »
Daily Horoscopes
Enter your email address below to receive your daily horoscope directly to your inbox.
Your email will be used to send you your free astrological reading, along with ongoing communications regarding your zodiac sign.
x