Taurus Weekly Horoscope
For the Week of: April 12 - April 18
Apr 12, 2021 - It's a hugely influential week in the skies ahead; in fact, this may just about be one of the buzziest weeks of 2021, but for you the program is a little bit different. The Sun and Mercury are going to be especially active in the days ahead, but they are spending this week in Aries and your sleepy 12th House of the subconscious, so trying to make progress is going to be more about following your intuition and seeing where it leads you rather than trying to forge your own path. That being said, you do get one important blessing on the 14th, when your ruler, romantic Venus will leave Aries and your nebulous 12th where she has been rotating since mid-March. Love has probably been more than a little confusing for a hot minute, and now it will be possible for you to get a clear grasp on it as Venus moves into your sign and your 1st House of self-expression and action for the next three weeks. Use this time to hit the restart button on your love life and start fresh with someone special, be they new or already by your side. You're going to be the Universal favorite for a minute, so you might as well enjoy it!

The next few days feature some major alignments; on the 15th and 16th, respectively, the Sun will reach out from Aries to form a beautiful sextile to abundant Jupiter in your career sector, then turn around and square of alchemical Pluto in your expansion sector, making quite the spectacle. During this period, you could find yourself getting an unexpected boost up the professional ladder, maybe with a VIP emerging from the wings to give you a helping hand when you least expect it. The Pluto alignment might test your faith or find you changing what you believe; Pluto cuts through the fog to get to the heart of the matter, so expect to do a bit of deep introspection.

The 17th could be a very powerful day for your career, when motivator Mars in your 2nd House will form a beautiful trine with Jupiter, giving you the drive to make some major progress at work. You could receive word that you're going to be earning more money, or perhaps find an opportunity to earn more income; keep your ears open, especially because Mercury will also be supporting Jupiter from your subconscious, so you could have a million-dollar idea when you least expect it. On the 18th the Sun and Mercury will align at the very last degree of Aries, so this is a terrific time to have any meaningful conversations; you're normally all about going by the book, but give yourself permission to be a bit more playful in your approach to matters right now.

Want to Uncover the Month Ahead?
Thank you for reading your free weekly horoscope! Want more information for your astrological sign for today? We have more free zodiac predictions for your Sun sign and overviews of the upcoming planetary transits below.
More Horoscopes for taurus
What Do The Stars Have in Store This Week?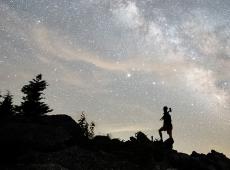 Have you been feeling out of control or out of touch with your capabilities? If so, you can expect some celestial miracles this week, coming in the form of self-confidence, a… Read Full Article »
Your Weekly Forecast with Terence Guardino
Click to See the
rest of your week
You might also be interested in
---
If you've ever read up on your Sun sign, you know that every Sun sign is a mixture of positive and negative traits. It has to be this way, because there always has to be a… Read Full Article »
A New Moon is coming up in the Fire sign of Sagittarius. As all astrological events do, this New Moon has light and dark effects which we can navigate and use to our… Read Full Article »
Ancient medicine practices often understood pain to occur as a result of an imbalance in the energy of the body. Crystals have powerful, invisible energetic resonances that can… Read Full Article »
Daily Horoscopes
Enter your email address below to receive your daily horoscope directly to your inbox.
Your email will be used to send you your free astrological reading, along with ongoing communications regarding your zodiac sign.
x