Goat Daily Horoscope
Oct 26, 2021 - Fourth Trine energy in your sign dominates the skies today, Goat, and this gives you a chance to relax!
Let go of the chaos and the troubles for a while. It's important you regenerate yourself. There are some important changes coming up for you.
This is not a good time to make big financial decisions or dig too deep into issues that require much careful handling and thought. Now is the time to refresh your energies. A walk among nature or simply just putting your feet up is recommended under this strong contemplative energy, Goat.
Get Your Free Horoscopes Here
Daily Horoscope Video with Debra Silverman
Daily Tarot Reading
2 of Pentacles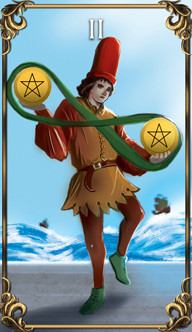 2 of Pentacles
On the 2 of Pentacles, we see a figure juggling 2 coins, the infinity symbol tying the coins together. There is a sense of give-and-take in this Tarot card, and that could be spiritually, emotionally, or financially. You may be juggling a lot of bills right now, or a lot of messages related to love.… Get Your Reading »
Let These Tarot Readings Help Guide You Through Your Day
Daily Gemstone & Crystal Reading
Blue Lace Agate
Blue Lace Agate If you've been dealing with overwhelming feelings of anger, anxiety or frustration, and have been seeing increased conflict in multiple areas of your life, you might want to invest in some Blue Lace Agate. "I communicate effectively and with ease," is the affirmation of this crystal, and its primary chakra is the Throat Chakra, which relates to communication and being able to properly express… Get Your Reading »
Want to learn more about crystals and gemstones? Let us help you!
You might also be interested in
---
One of the biggest astrological events occurs when Saturn or another planet further out changes sign. In 2011, Saturn transited into Scorpio, and we were treated to a deeper… Read Full Article »
Born between November 21st and December 20th, the Sagittarius man is a charming traveler who attracts many and falls for few. His traits might include his love for travel, his… Read Full Article »
On August 11th, 2018, we have a New Moon partial solar eclipse in the Fire sign of Leo. This is a great time for us to start new projects as well as begin to send out… Read Full Article »
Daily Horoscopes
Enter your email address below to receive your daily horoscope directly to your inbox.
Your email will be used to send you your free astrological reading, along with ongoing communications regarding your zodiac sign.
x