Monkey Daily Horoscope
Apr 17, 2021 - There is a lot going on in the skies today, Monkey, and you are quite fortunate today. It's a good time to move ahead with an investment or venture.
You're likely feeling quite practical today and this is a positive time for getting things done, particularly around the home. Sudden bursts of adventure may come upon you at random moments, so be prepared!
Relationships with others can undergo transformation at this time. Think about what you want to get off your chest. Empathy and understanding work so much better than judgement or keeping your feelings in. Speak from the heart and don't be afraid to reveal what is inside it, Monkey.
Get Your Free Horoscopes Here
Daily Horoscope Video with Debra Silverman
Daily Tarot Reading
2 of Pentacles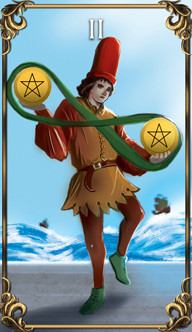 2 of Pentacles
On the 2 of Pentacles, we see a figure juggling 2 coins, the infinity symbol tying the coins together. There is a sense of give-and-take in this Tarot card, and that could be spiritually, emotionally, or financially. You may be juggling a lot of bills right now, or a lot of messages related to love.… Get Your Reading »
Let These Tarot Readings Help Guide You Through Your Day
Daily Gemstone & Crystal Reading
Red Jasper
Red Jasper "I am open to everything around me and within me," is an affirmation that is best representative of nurturing Red Jasper. This crystal is known to help those of us seeking physical protection and looking to relieve health issues involving body weakness. Red Jasper is even thought to aid in increasing vitality, that's why its stabilizing and energetic aura is particularly useful for the signs of… Get Your Reading »
Want to learn more about crystals and gemstones? Let us help you!
You might also be interested in
---
There are a number of ways that we can receive answers from beyond, or just answers in general! Astrology is a powerful divination tool that can show us potentials in a weather… Read Full Article »
We started one of the auspicious Mercury retrograde periods on July 7th, and the good news is, it ends on August 1st, 2019, in the Water sign of Cancer! Connected with the fourth… Read Full Article »
Chiron just turned direct 3 days ago, ending its retrograde early in Fire sign Aries. Chiron's official designation is both a comet and minor planet (but was originally an… Read Full Article »
Daily Horoscopes
Enter your email address below to receive your daily horoscope directly to your inbox.
Your email will be used to send you your free astrological reading, along with ongoing communications regarding your zodiac sign.
x