Monkey Daily Horoscope
Oct 26, 2021 - A lot can be achieved today, Monkey! Now is the time to get your thinking cap on and proceed with your plans.
You're likely feeling quite practical today and this is a positive time for getting things done, particularly around the home. 
Relationships with others can undergo transformation at this time. Think about what you want to get off your chest. Empathy and understanding work so much better than judgment or keeping your feelings in.
Speak from the heart and don't be afraid to reveal what is inside it, Monkey, as relationships can be deepened and strengthened at this time.
Get Your Free Horoscopes Here
Daily Horoscope Video with Debra Silverman
Daily Tarot Reading
2 of Pentacles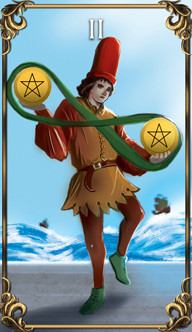 2 of Pentacles
On the 2 of Pentacles, we see a figure juggling 2 coins, the infinity symbol tying the coins together. There is a sense of give-and-take in this Tarot card, and that could be spiritually, emotionally, or financially. You may be juggling a lot of bills right now, or a lot of messages related to love.… Get Your Reading »
Let These Tarot Readings Help Guide You Through Your Day
Daily Gemstone & Crystal Reading
Blue Lace Agate
Blue Lace Agate If you've been dealing with overwhelming feelings of anger, anxiety or frustration, and have been seeing increased conflict in multiple areas of your life, you might want to invest in some Blue Lace Agate. "I communicate effectively and with ease," is the affirmation of this crystal, and its primary chakra is the Throat Chakra, which relates to communication and being able to properly express… Get Your Reading »
Want to learn more about crystals and gemstones? Let us help you!
You might also be interested in
---
Whoever said brains can't be sexy definitely wasn't talking about the Virgo zodiac sign. With an excellent work ethic and meticulous attention to detail, Virgos are more… Read Full Article »
Are you ready for the culmination of your spiritual journey so far? A test of the lessons learned, a taste of the rewards to come? If you've just pulled a 9 in the Tarot,… Read Full Article »
​The Lovers Tarot card is a card that people love to see in relationship readings because it usually denotes the meeting of a soul mate or life partner; at the very least,… Read Full Article »
Daily Horoscopes
Enter your email address below to receive your daily horoscope directly to your inbox.
Your email will be used to send you your free astrological reading, along with ongoing communications regarding your zodiac sign.
x