Ox Daily Horoscope:
Tomorrow
Oct 28, 2021 - Third Trine Dog energy is in the air today and this brings positive energy to you, Ox, enabling you to see things from new perspectives and adapt to new situations.
Adapting to the new can be challenging for you at times as you prefer the long and steady road. But this is a time where the unexpected will be a frequent thing and as long as you are willing to turn with the tides you will find success along the way.
Keep yourself focused on the long-term goal but remember that everything requires adjustment at times. Remember to take good care of your physical and mental health too. Do something to help you unwind as nurturing yourself is very important.
Get Your Free Horoscopes Here
Daily Horoscope Video with Debra Silverman
Daily Tarot Reading
2 of Pentacles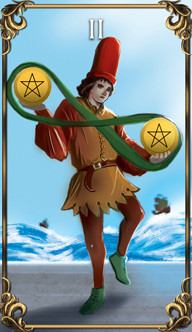 2 of Pentacles
On the 2 of Pentacles, we see a figure juggling 2 coins, the infinity symbol tying the coins together. There is a sense of give-and-take in this Tarot card, and that could be spiritually, emotionally, or financially. You may be juggling a lot of bills right now, or a lot of messages related to love.… Get Your Reading »
Let These Tarot Readings Help Guide You Through Your Day
Daily Gemstone & Crystal Reading
Blue Lace Agate
Blue Lace Agate If you've been dealing with overwhelming feelings of anger, anxiety or frustration, and have been seeing increased conflict in multiple areas of your life, you might want to invest in some Blue Lace Agate. "I communicate effectively and with ease," is the affirmation of this crystal, and its primary chakra is the Throat Chakra, which relates to communication and being able to properly express… Get Your Reading »
Want to learn more about crystals and gemstones? Let us help you!
You might also be interested in
---
Earth signs are the practical and steady ones of the zodiac. You need to create stability and security in your life. You don't show off your wealth, you just enjoy the creature… Read Full Article »
​Do you read your horoscope or articles about your sign and think, "I don't identify with that at all?!" This tells us a few things about you: You probably have a… Read Full Article »
The Sun is moving into the sign of Gemini. If your coupling hasn't been particularly cordial, then this month may just bring about some needed changes—particularly after June… Read Full Article »
Daily Horoscopes
Enter your email address below to receive your daily horoscope directly to your inbox.
Your email will be used to send you your free astrological reading, along with ongoing communications regarding your zodiac sign.
x