Ox Daily Horoscope:
Tomorrow
Apr 19, 2021 - Fourth Trine Goat energy dominates the skies today, Ox, and with positive universal energy affecting you, this gives you a chance to relax.
Let go of the chaos and the troubles for a while. It's important that you regenerate yourself. 
There are some important changes coming up for you. This is not a good time to make big financial decisions or dig too deep into issues that require much careful handling and thought.
Now is the time to refresh your energies, Ox. A walk among nature or simply just putting your feet up is recommended under this Fourth Trine Goat energy.
Get Your Free Horoscopes Here
Daily Horoscope Video with Debra Silverman
Daily Tarot Reading
2 of Pentacles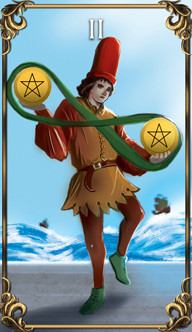 2 of Pentacles
On the 2 of Pentacles, we see a figure juggling 2 coins, the infinity symbol tying the coins together. There is a sense of give-and-take in this Tarot card, and that could be spiritually, emotionally, or financially. You may be juggling a lot of bills right now, or a lot of messages related to love.… Get Your Reading »
Let These Tarot Readings Help Guide You Through Your Day
Daily Gemstone & Crystal Reading
Red Jasper
Red Jasper "I am open to everything around me and within me," is an affirmation that is best representative of nurturing Red Jasper. This crystal is known to help those of us seeking physical protection and looking to relieve health issues involving body weakness. Red Jasper is even thought to aid in increasing vitality, that's why its stabilizing and energetic aura is particularly useful for the signs of… Get Your Reading »
Want to learn more about crystals and gemstones? Let us help you!
You might also be interested in
---
The balancing of our chakras is an important step in our mental health and energetic well being, but with all the things in life that keep us busy, it can be hard to find the time… Read Full Article »
Have you ever wondered if the numbers you're seeing in your everyday life are trying to tell you something? Do you see certain numbers or numerical patterns repeating? Maybe in… Read Full Article »
You may have heard your astrologer talk to you about the Moon's nodes. These aren't actual planetary placements. The nodes are the points where the Moon's orbit crosses the… Read Full Article »
Daily Horoscopes
Enter your email address below to receive your daily horoscope directly to your inbox.
Your email will be used to send you your free astrological reading, along with ongoing communications regarding your zodiac sign.
x