Cancer Weekly Horoscope
For the Week of: April 12 - April 18
Apr 12, 2021 - There is progress to be made this week, and you'll have a hard time missing it from the look of things, Cancer. The Sun and Mercury and Venus all start out the week in Aries and your 10th House of career goals, and while the former two will be performing a series of hard-to-miss acts in this sector of your chart, early in the week there is a changing in the planetary guard that requires your attention first before you can move on to anything else, and it is going to be less about progress and more about romance. Come the 14th, Venus will leave Aries and your ambitious 10th House where she has been rotating since the mid-March and move on to Taurus and your social 11th House of global communities and friend groups. After orienting so much attention to your achievements and obligations you'll finally get to pursue a few more pleasurable activities, but whether these are more platonic or passionate remains to be seen. That being said, technology is highlighted under this transit, so if you've been holding off on doing some swiping now is the time to start; couples should try and find more ways to make date night not just about the two of you.

Over the 15th and 16th, the Sun in Aries will align with two of the most powerful planets in the entire solar system, Jupiter and Pluto, respectively. The first angle to Jupiter will be a largely positive one that can create opportunities for you to earn a major windfall for all the work you've been doing on the professional front; Jupiter is in the midst of an extended tour of Aquarius and your 8th House of shared resources, which deals with everything from big budget finances to sexual bonds, and with the Sun connecting like this you could receive a beautiful reward for your efforts. The next day is a slightly different matter, however, as the Sun squares off Pluto in Capricorn and your 7th House of partnerships, so you might notice a bit of a tug-o-war between your work and the people in your life; perhaps when you're trying to get down to business a person keeps clamoring for your attention, or perhaps someone is feeling hurt because you've put them on the backburner while work has taken up so much of your time and attention.

The weekend is going to be even more powerful, especially the 17th, when energetic Mars in Gemini and your sleepy 12th House will form a trine to Jupiter, bringing some powerful issues to the surface; since Mars is operating in what is considered "hidden" territory, you might have a surprise come your way, but because of the positive angle it looks like you've got no reason to worry. Mercury will also be activated at this time, forming the same sextile to Jupiter that the Sun formed on the 15th, so you might encounter more of the same themes from earlier in the week. It's a great time to have conversations regarding your career, so don't hold back, especially the very next day, when the Sun and Mercury form a conjunction at the exact same degree of Aries, blending their energy to a beautiful degree. It might be the weekend but that isn't any reason you can't roll up your sleeves and show everyone what you're made of.
Want to Uncover the Month Ahead?
Thank you for reading your free weekly horoscope! Want more information for your astrological sign for today? We have more free zodiac predictions for your Sun sign and overviews of the upcoming planetary transits below.
More Horoscopes for cancer
What Do The Stars Have in Store This Week?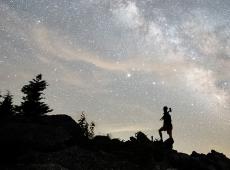 Have you been feeling out of control or out of touch with your capabilities? If so, you can expect some celestial miracles this week, coming in the form of self-confidence, a… Read Full Article »
Your Weekly Forecast with Terence Guardino
Click to See the
rest of your week
You might also be interested in
---
Summer is finally here, and love is in the air! That is, of course, one of the biggest reasons we all look forward to summer ... what could be more fun than a summer fling? Have… Read Full Article »
​On September 18th, 2019, Saturn turns direct. So what does this mean and how can we use the Tarot cards to use the energy of Saturn to help our lives become more prosperous and… Read Full Article »
There's a good chance that you've heard the phrase, "Mercury is in retrograde," or "When Mercury goes retrograde…" If you're familiar with astrology, you may… Read Full Article »
Daily Horoscopes
Enter your email address below to receive your daily horoscope directly to your inbox.
Your email will be used to send you your free astrological reading, along with ongoing communications regarding your zodiac sign.
x