cancer Money Horoscope
Sep 18, 2021 - Thinking about a range of possibilities is on the agenda today, Cancer! With the Moon in Pisces, you are ready to expand your horizon and delve into the depths of your imagination.
With this Moon in your ninth house of spirituality and adventure, you're not too keen on being boxed in today and this makes you more likely to explore outside your comfort zone.
Where are your instincts guiding you? You may be struggling with a financial decision but the universal energy today brings you the chance to find a positive resolution.
Spend time among nature if possible as this grounds and nurtures you spiritually, helping to clear away any mental blocks that are standing in your way, Cancer.
Sep 19, 2021 - This is a time to focus on your creative spirit, Cancer. Do you feel that money is taking away some of your enthusiasm or do you have a good relationship with your finances?
Recognize when your relationship with money is having a negative effect on you. The Moon is in Pisces and this is a good time to go inwards and have an honest conversation with yourself.
What is your inner voice telling you today? Meditating and spending time among nature are good ways to drown out the chatter and listen to the voice within, Cancer.
Sep 20, 2021 - Happy Full Moon, Cancer!
This is a positive time for financial aspirations and this Pisces Full Moon brings powerful emotions to the surface. You may hit upon a new idea or feel a new boost of motivation which can be incredibly inspiring for you.
Take time today to focus on what you want to happen and harnessing the energy of the Full Moon today. Remember, the Moon is your ruler and the Full Moon is always a time of great magic for you.
How can you manifest the reality you want? Spend some time reconnecting with yourself today – and use the selenite crystal if you have one, as it enhances your natural abilities of manifestation.
More Horoscopes for cancer
Daily Horoscope Video with Debra Silverman
Daily Tarot Reading
10 of Pentacles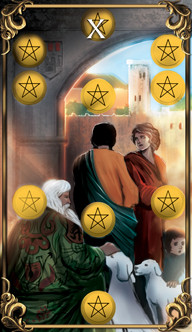 10 of Pentacles
On its face, the 10 of Pentacles appears to be a fairly simple card to read, but its rich symbolism encourages you to take its face value a little deeper into the situation at hand today. 10's in the Tarot are all about completed cycles, and so the 10 of Pentacles is telling you today that you've… Get Your Reading »
Let These Tarot Readings Help Guide You Through Your Day
Daily Gemstone & Crystal Reading
Labradorite
Labradorite Labradorite can be used to balance and protect our aura, as well as, it is often used to promote intuition and higher consciousness. This crystal is especially potent for Leos, Scorpios, and Sagittarius as they embrace their inner desire for change and growth, this is associated with its affirmation is, "I embrace transformation in my life." Its primary chakra is the Third Eye Chakra, connected to… Get Your Reading »
Want to learn more about crystals and gemstones? Let us help you!
cancer

Compatibility with other signs
---
You might also be interested in
---
It's time to say farewell to July, and this week we have many transits to help us do so. It's impossible to believe that we are officially at the halfway point of the laziest… Read Full Article »
The idea that we could have past lives is fascinating, isn't it? This is the topic I get asked about a lot—right after do they love me, who's my soul mate, and what are the… Read Full Article »
In March, Spring is blooming soon, and so with it, the emotional and illusory Pisces season continues. And as Aries season will pick up towards the latter half of March with the… Read Full Article »
Daily Horoscopes
Enter your email address below to receive your daily horoscope directly to your inbox.
Your email will be used to send you your free astrological reading, along with ongoing communications regarding your zodiac sign.
x