capricorn Career Horoscope
Sep 18, 2021 - The Moon is in Pisces and in your 3rd house of communications today. How skillful are you in expressing your thoughts and ideas in a clear fashion? 
If you feel like you could afford to hone that ability of yours, this would be the perfect time to do so. The way we speak and express ourselves is like advertising ourselves in a way. 
You want to make sure that it is in alignment with who you actually are and the skills that you have to offer. 
Sep 19, 2021 - How good are you at expressing your ideas to others? Do you feel skillful in your communication abilities at work? The Moon is in Pisces and in your 3rd house and these are all questions to meditate on. 
Communication can truly be everything sometimes. What good are all your brilliant ideas if you don't have the ability to clearly explain and bring them across to your audience? 
Today would be a good day to advertise yourself and the services you offer. 
Sep 20, 2021 - This is a great time for you to reflect on your communication skills and to ask yourself questions such as: "am I able to communicate my ideas clearly to my desired audience?", "does the way I verbally express myself accurately reflect who I am and what I can offer?" 
The Full Moon in Pisces is happening in your 3rd house today and is inviting to look at all those aspects of your work. If the answer was no to any of those questions, think about what you can do to change that and improve these skills of yours. 
You can have so many amazing ideas, but they're of no use to you or anyone else if you lack the ability to share them with the world in a clear and practical fashion. How can you infuse your everyday work activities with the things that infuse your experience with more meaning?
More Horoscopes for capricorn
Daily Horoscope Video with Debra Silverman
Daily Tarot Reading
10 of Pentacles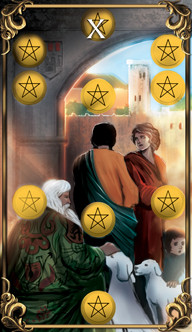 10 of Pentacles
On its face, the 10 of Pentacles appears to be a fairly simple card to read, but its rich symbolism encourages you to take its face value a little deeper into the situation at hand today. 10's in the Tarot are all about completed cycles, and so the 10 of Pentacles is telling you today that you've… Get Your Reading »
Let These Tarot Readings Help Guide You Through Your Day
Daily Gemstone & Crystal Reading
Labradorite
Labradorite Labradorite can be used to balance and protect our aura, as well as, it is often used to promote intuition and higher consciousness. This crystal is especially potent for Leos, Scorpios, and Sagittarius as they embrace their inner desire for change and growth, this is associated with its affirmation is, "I embrace transformation in my life." Its primary chakra is the Third Eye Chakra, connected to… Get Your Reading »
Want to learn more about crystals and gemstones? Let us help you!
capricorn

Compatibility with other signs
---
You might also be interested in
---
Your whole life revolves around numbers—and it's not just your date of birth, either! While numerology focuses on your life path and other calculations based on your birthday… Read Full Article »
In the field of numerology, every year and every day has a number value. Everything we do could be quantified to a number value. The year ahead is no different. 2016 was a year 9… Read Full Article »
Have you ever wondered what your zodiac signs compatibility is with healing crystals? Each astrological sign has certain weaknesses that can be improved upon to bring about a more… Read Full Article »
Daily Horoscopes
Enter your email address below to receive your daily horoscope directly to your inbox.
Your email will be used to send you your free astrological reading, along with ongoing communications regarding your zodiac sign.
x