aquarius Career Horoscope
Sep 18, 2021 - Are you satisfied with your current financial situation? Are you making as much money as you want to through your work? 
These are good questions to ask yourself today as the Moon is in Pisces and in your 2nd house of finances and personal resources. This is also a good time to reflect on the way you manage your money, seeing if there is anything that you can afford to cut down on, in order to make better use of your money. 
Learn how to be organized in the way you spend, keeping track of how much money you spend on each area of your life. 
Sep 19, 2021 - What's your relationship to your finances? Are you making as much money as you would like to be? Ask yourself these questions today as the Moon is in Pisces  and in your 2nd house of finances. 
Learn how to be balanced with your money. If you find that you spend too much, more than you can afford to, try being less frivolous. 
And if you're the kind of person who's constantly freaking out about finances, not allowing yourself to enjoy your resources, practice being less stingy with yourself. 
Sep 20, 2021 - Whats your relationship to your finances and personal resources? The Full Moon in Pisces occurs in your 2nd house today and is highlighting this topic for you. Do you have the ability to manage your money in such a way where you're not spending more than you're making? 
If not, contemplate on what are the things that you can afford to cut down on. This is a relevant time to reflect on whether your work is able to support you financially, while maintaining the balance of making sure that money isn't the sole reason that you do what you do. 
Because if that becomes your reality, you risk losing touch with the beauty of what you love about your job. Also, do your investments and finical partnerships provide you with as much rewards and everything you put into them?
More Horoscopes for aquarius
Daily Horoscope Video with Debra Silverman
Daily Tarot Reading
10 of Pentacles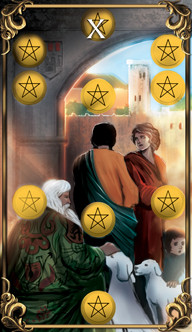 10 of Pentacles
On its face, the 10 of Pentacles appears to be a fairly simple card to read, but its rich symbolism encourages you to take its face value a little deeper into the situation at hand today. 10's in the Tarot are all about completed cycles, and so the 10 of Pentacles is telling you today that you've… Get Your Reading »
Let These Tarot Readings Help Guide You Through Your Day
Daily Gemstone & Crystal Reading
Labradorite
Labradorite Labradorite can be used to balance and protect our aura, as well as, it is often used to promote intuition and higher consciousness. This crystal is especially potent for Leos, Scorpios, and Sagittarius as they embrace their inner desire for change and growth, this is associated with its affirmation is, "I embrace transformation in my life." Its primary chakra is the Third Eye Chakra, connected to… Get Your Reading »
Want to learn more about crystals and gemstones? Let us help you!
aquarius

Compatibility with other signs
---
You might also be interested in
---
Here comes the fire, Earthlings! Mars retrograde just began a couple of days ago, and this retrograde comes to us entirely in the sign of Aries. We had no Mars retrograde in 2019… Read Full Article »
If your weekly love horoscope doesn't look so bright, you can still have an incredible week. You can always embrace the energy you find yourself in and find a way to trust that… Read Full Article »
Eastern Astrology goes one step further than Western Astrology in the sense that certain signs possess either great affinity for one another or great abhorrence! As in Western… Read Full Article »
Daily Horoscopes
Enter your email address below to receive your daily horoscope directly to your inbox.
Your email will be used to send you your free astrological reading, along with ongoing communications regarding your zodiac sign.
x