aquarius Love Horoscope
Oct 05, 2022 - The Moon is in Aquarius and in your 1st house of self, however it is also squaring Uranus in your 4th house. This configuration is highlighting the importance of being able to spend time with your partner where you don't feel urged to "do" anything but are able to just rest in the emptiness and be. 
It is a necessary part of any healthy relationship to be able to be fully present with your lover without having to always do something or distract yourself. 
It is also a crucial aspect of self-love to just allow yourself quality alone time to refill your energy reserves and rejuvenate. This permits you to be full and capable of giving even more to your lover. 
Oct 06, 2022 - Do you feel that your romantic partnerships bring you closer to your values? Does your partner have values that are in alignment with yours? These are necessary questions to reflect on today as the Moon is in Pisces and in your 2nd house. 
It happens a lot that people end up in relationships that are not necessarily bringing them close to what they hold dear in their lives.
Naturally, they end up being unfulfilled, resentful and those connections don't last very long. Ask yourself how you can make sure that the partners you attract have (more or less) similar values as yours. Of course, you will always have certain things that you disagree on, what matters the most is that those things are not fundamentals and that both you and your lover are able to respect one another despite your differences. 
Beyond that, how can you learn to not be too rigid and learn to adopt different values that you may end up finding true to you? 
More Horoscopes for aquarius
Oct 05, 2022 - If you are working then try and have some fun today at the office if you can, because the planets want you to achieve and enjoy yourself at the same time; have faith, it's not impossible. The intuitive Moon… Get Your Horoscope >>
Oct 05, 2022 - This could be one of the most wonderfully romantic days you've experienced in some time, so do your best not to waste this golden opportunity. The intuitive Moon is spending the day drifting through your sign… Get Your Horoscope >>
Oct 04, 2022 - You're tapped into something primal and magical, so trust your instincts and if a romantic proposition comes your way out of the blue take a leap of faith and let it take you where it may. There's a sensual… Get Your Horoscope >>
Discover Your Love Horoscope Compatibility
Is romance and love on the table in your relationship? Whether it's your current partner or someone you have feelings for, your zodiac sign can tell you so much about your love life.
Find out how compatible you and your love-interest are!
Love & Astrology Articles
Full Moons are known for pushing emotional boundaries and testing our limits. And with a Full Moon in fiery Aries coming up, you can be sure that your temper will be tested,… Read Full Article »
It's simple. Take your power back. That's what Pluto direct is telling you in your horoscopes. Once upon a time, there was a tiny planet named Pluto, discovered in 1930 by a… Read Full Article »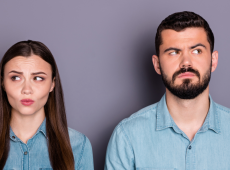 Ah, zodiac love! Inevitably, some zodiac signs are more compatible with one another than others. And looking at how your zodiac signs measure up can help you determine if this… Read Full Article »
Daily Horoscopes
Enter your email address below to receive your daily horoscope directly to your inbox.
Your email will be used to send you your free astrological reading, along with ongoing communications regarding your zodiac sign.
x