aries Health Horoscope
Sep 18, 2021 - Creativity and intuition are enhanced under this planetary influence, so this is a great day to follow your gut and find new manners of expression, Aries. Expressing yourself through art and creativity will help you feel more balanced and uplifted.
Obsidian is a stone that will help you remain grounded and centered today. Place a piece of obsidian near the left side of your body while meditating or practicing yoga to enhance your energy and create harmony within the body.
Walnuts are delicious with sweet and savory foods, and they contain fiber, vitamins, and minerals. Sprinkle crushed almonds over a spinach salad with your favorite berries and vinaigrette for a light, nutritious meal, Aries.
Sep 19, 2021 - This is a good day to face your fears and explore the hidden emotions you may be carrying with you, Aries. This planetary energy helps to illuminate any issues that you may have been unconsciously ignoring. Practice self-care and a healing routine to get the most of this energy.
Red jasper is an empowering stone that connects to the energy Mars, your ruling planet. Carry a piece of red jasper with you to help you feel more courageous today.
Frozen berries provide the body with vitamins and antioxidants, and they satisfy your sweet tooth. Have a bowl of frozen raspberries, blueberries, and strawberries for a refreshing treat, Aries.
Sep 20, 2021 - Today's Full Moon encourages you to finish up any projects or chores that you've been working on, Aries. Wrapping things up will give you a sense of confidence and accomplishment. Beginning the day with exercise will fill your spirit with energy and motivation.
Rose quartz connects to your ruling planet, Venus, and amplifies your feelings of self-love and self-acceptance. Place a piece of rose quartz in a glass of drinking water for 30 minutes to create a healing elixir.
Black coffee is a great way to start your day today, Aries, giving you a boost of energy that won't weigh you down. You can try adding almond milk and stevia for a low-calorie treat.
More Horoscopes for aries
Daily Horoscope Video with Debra Silverman
Daily Tarot Reading
10 of Pentacles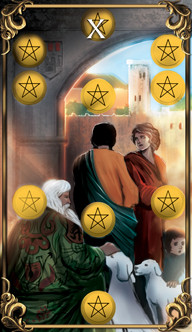 10 of Pentacles
On its face, the 10 of Pentacles appears to be a fairly simple card to read, but its rich symbolism encourages you to take its face value a little deeper into the situation at hand today. 10's in the Tarot are all about completed cycles, and so the 10 of Pentacles is telling you today that you've… Get Your Reading »
Let These Tarot Readings Help Guide You Through Your Day
Daily Gemstone & Crystal Reading
Labradorite
Labradorite Labradorite can be used to balance and protect our aura, as well as, it is often used to promote intuition and higher consciousness. This crystal is especially potent for Leos, Scorpios, and Sagittarius as they embrace their inner desire for change and growth, this is associated with its affirmation is, "I embrace transformation in my life." Its primary chakra is the Third Eye Chakra, connected to… Get Your Reading »
Want to learn more about crystals and gemstones? Let us help you!
aries

Compatibility with other signs
---
You might also be interested in
---
Your chakras affect your health, your energy, your ability to think clearly and your emotional state. These things all control how you experience your life and how others are… Read Full Article »
Welcome to another edition of 'Ask Charla.′ You know, here at Astrology Answers I get a lot of questions from all corners of the globe; things to do with love and romance,… Read Full Article »
So you've met Mr. (or Ms.) Right… maybe. The telltale signs are all there – the butterflies in your stomach, the excitement every time your phone so much as chirps (maybe… Read Full Article »
Daily Horoscopes
Enter your email address below to receive your daily horoscope directly to your inbox.
Your email will be used to send you your free astrological reading, along with ongoing communications regarding your zodiac sign.
x