aries Career Horoscope
Sep 18, 2021 - The Moon is in Pisces and in your 12th house today. You are being asked to review any hidden aspects of your job. Are there any unconscious negative feelings that you have about your work? 
Ask yourself what those are and identify how you can change those things in order to create a more enjoyable and fulfilling work experience. 
When we leave things in the dark, they start to affect our lives in ways that we are not even aware of, preventing us from being able to improve things. 
Sep 19, 2021 - The Moon is in Pisces today and in your 12th house. This brings the focus to any hidden, negative feelings you have about your work that could be compromising your potential for success. 
Do you allow yourself to see the things that you don't like about your job? The only way you can change the things you're unhappy about is by acknowledging them and being clear about what needs to change. 
It's so much easier to work with things that are in your field of awareness, rather than having them unconsciously sabotaging your life.
Sep 20, 2021 - Do you have any hidden, negative feelings about your work? If so, what are they and do you have the willingness to be honest with yourself about them? The Pisces Full Moon is occurring in your 12th house today and is helping you get in touch with these parts of your self. 
It is obviously more than natural to have unpleasant emotions about our job. What actually matters is if you decide to be courageous enough and get clear about the things that you don't like and sit with that discomfort that is necessary to experience in order to change. 
When we leave things to remain hidden, they possess the ability to sabotage our lives without us being aware if it. More importantly is taking the necessary, practical action steps that allow you to experience more satisfaction at your job. 
More Horoscopes for aries
Daily Horoscope Video with Debra Silverman
Daily Tarot Reading
10 of Pentacles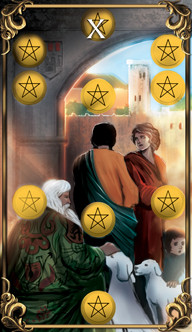 10 of Pentacles
On its face, the 10 of Pentacles appears to be a fairly simple card to read, but its rich symbolism encourages you to take its face value a little deeper into the situation at hand today. 10's in the Tarot are all about completed cycles, and so the 10 of Pentacles is telling you today that you've… Get Your Reading »
Let These Tarot Readings Help Guide You Through Your Day
Daily Gemstone & Crystal Reading
Labradorite
Labradorite Labradorite can be used to balance and protect our aura, as well as, it is often used to promote intuition and higher consciousness. This crystal is especially potent for Leos, Scorpios, and Sagittarius as they embrace their inner desire for change and growth, this is associated with its affirmation is, "I embrace transformation in my life." Its primary chakra is the Third Eye Chakra, connected to… Get Your Reading »
Want to learn more about crystals and gemstones? Let us help you!
aries

Compatibility with other signs
---
You might also be interested in
---
Aries marks the beginning of the astrological calendar, and its people are passionate, creative, and self-assured. The fire within creates an outward spark those around you bask… Read Full Article »
There's a lot to learn in astrology and what people get most hung up on is taking things too literally! I knew one woman who was interested in someone who had a sun sign that… Read Full Article »
When New Year's resolutions are made without being in sync with your soul's divine plan, they're not likely to work. It's why people have turned to astrology for thousands… Read Full Article »
Daily Horoscopes
Enter your email address below to receive your daily horoscope directly to your inbox.
Your email will be used to send you your free astrological reading, along with ongoing communications regarding your zodiac sign.
x