aries Career Horoscope:
Tomorrow
Oct 26, 2021 - What's your relationship to downtime? Do you lean more towards working so much and not allowing yourself enough time to rest? Ask yourself these questions today as the Moon is in Cancer and in your 4th house. It's so easy to get caught up in the cycle of work, work, work that you forget you're a human being with limits!
If you have the belief that you can't afford to rest, because otherwise, that would diminish your efficiency or productivity, I invite you to think about that more deeply. If you don't allow yourself the time to unwind, recuperate and refill your energy reserves, how can you maintain the steam to stay motivated and productive? 
The Moon is squaring Mercury in your 7th house, inviting to evaluate your partnerships at work, and whether you have enough trust in them to help support you and take care of things in times when you need support.
Oct 27, 2021 - How much do you rest? Do you allow yourself downtime to replenish your energy? These are good questions to ask yourself today as the Moon is in Cancer and in your 4th house. 
You may notice that you get so caught up in work that you forget that it's just as important to rest. When you don't do that, you risk burning out which prevents you from being as efficient and productive as you want to be. Practice taking it slow and easy today and direct your energy more internally. 
The Moon is also trining Neptune in your 12th house, highlighting that in order to recognize and change the things you don't like about your job, you need to allow yourself alone time to just be and reflect on things. 
Oct 28, 2021 - Do you experience joy and pleasure at your job? Do you feel inspired doing what you do? As the Moon is in Leo and in your 5th house of creative self-expression, these are relevant topics to meditate on. 
It is crucial that you find happiness at your work, otherwise, you risk turning into someone who lives their life robotically, doing things mindlessly without imbuing them with your unique and personal flavor. 
If that is your current reality at your job, what are the things you can shift in order to change that? 
More Horoscopes for aries
Daily Horoscope Video with Debra Silverman
Daily Tarot Reading
2 of Pentacles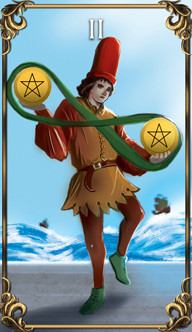 2 of Pentacles
On the 2 of Pentacles, we see a figure juggling 2 coins, the infinity symbol tying the coins together. There is a sense of give-and-take in this Tarot card, and that could be spiritually, emotionally, or financially. You may be juggling a lot of bills right now, or a lot of messages related to love.… Get Your Reading »
Let These Tarot Readings Help Guide You Through Your Day
Daily Gemstone & Crystal Reading
Blue Lace Agate
Blue Lace Agate If you've been dealing with overwhelming feelings of anger, anxiety or frustration, and have been seeing increased conflict in multiple areas of your life, you might want to invest in some Blue Lace Agate. "I communicate effectively and with ease," is the affirmation of this crystal, and its primary chakra is the Throat Chakra, which relates to communication and being able to properly express… Get Your Reading »
Want to learn more about crystals and gemstones? Let us help you!
aries

Compatibility with other signs
---
You might also be interested in
---
Can you interpret dreams with Tarot readings? In short - the answer is yes! It takes a bit of practice and skill, but it is something anyone can do. One thing that dreams and the… Read Full Article »
Have you ever wondered when love may be on the horizon for you? Or when you'll meet your soul mate, "The One," or stumble into the relationship of your dreams? This is quite… Read Full Article »
You probably know certain zodiac signs are inclined to like certain things, so of course certain hobbies will appeal to some zodiac signs far more than others. Based on some very… Read Full Article »
Daily Horoscopes
Enter your email address below to receive your daily horoscope directly to your inbox.
Your email will be used to send you your free astrological reading, along with ongoing communications regarding your zodiac sign.
x