gemini Money Horoscope
Oct 26, 2021 - This Cancer Moon makes it a time of reflection for you, Gemini, and now is the time to think about your finances at a deeper level and consider any changes you may think are best to make.
You may be struggling today with motivation. You have the power to motivate yourself and enable yourself to find new ways of strategizing and formulating plans for your financial projects.
Take a walk among nature to clear your mind. Your imagination is strong today and you can come up with some positive ideas that could have good results for you in the future, Gemini.
Oct 27, 2021 - Today you may feel keen to expand your horizons and a fresh idea or two may crop up which could generate financial income further down the line, so be sure not to ignore what springs to mind today, Gemini.
The Moon is in Cancer and encouraging you to go inwards and embrace your creative streak.
There's some positive energy in regard to communication so if you wish to discuss your financial plans with another then now is a good time to do so. Be open and clear about your intentions and listen to advice that is offered, Gemini.
Oct 28, 2021 - With the Moon in Leo, this is a good time for communication, Gemini, and new financial ventures are a great topic to discuss today.
Lots of progress can be made under this universal energy, but at the same time, it is important to stay grounded and not allow yourself to become too swept away in the fantasy of everything!
Take time to spend among nature if you can as this helps to clear your mind and paves the way for new and ingenious thinking that can lead to productive financial endeavors in the future, Gemini.
More Horoscopes for gemini
Daily Horoscope Video with Debra Silverman
Daily Tarot Reading
2 of Pentacles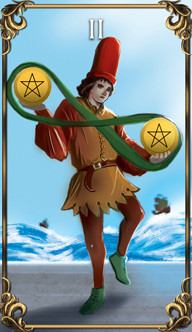 2 of Pentacles
On the 2 of Pentacles, we see a figure juggling 2 coins, the infinity symbol tying the coins together. There is a sense of give-and-take in this Tarot card, and that could be spiritually, emotionally, or financially. You may be juggling a lot of bills right now, or a lot of messages related to love.… Get Your Reading »
Let These Tarot Readings Help Guide You Through Your Day
Daily Gemstone & Crystal Reading
Blue Lace Agate
Blue Lace Agate If you've been dealing with overwhelming feelings of anger, anxiety or frustration, and have been seeing increased conflict in multiple areas of your life, you might want to invest in some Blue Lace Agate. "I communicate effectively and with ease," is the affirmation of this crystal, and its primary chakra is the Throat Chakra, which relates to communication and being able to properly express… Get Your Reading »
Want to learn more about crystals and gemstones? Let us help you!
gemini

Compatibility with other signs
---
You might also be interested in
---
Do you know how spectacular you are? Do you know that you are a genius? Albert Einstein said, "Everybody is a genius, but if you judge a fish by its ability to climb a tree, it… Read Full Article »
Psychic vampires may sound like something out of a bad horror movie, but the truth is that they are very real and, what's more, they don't necessarily have sharp teeth, drink… Read Full Article »
A rune is an intuition tool that helps you bypass the logic-based mind to access information from the flow of energy that exists between all things. The deductive reasoning we are… Read Full Article »
Daily Horoscopes
Enter your email address below to receive your daily horoscope directly to your inbox.
Your email will be used to send you your free astrological reading, along with ongoing communications regarding your zodiac sign.
x