gemini Sex Horoscope
Sep 18, 2021 - Life has been pretty intense lately and while you can handle intensity just fine for the most part it's also nice to be able to kick your shoes off and go dance around in the sun. Well, I'm happy to tell you the Universe had heard your plea and, personally, has had quite enough of all these dark doldrums and mind games. It's time to throw the window open and let the wind carry you out into the world, Gemini, and see where it takes you.
Chances are you'll wind up in some fabulous place you never even knew about, and right now the 'new' things and 'new' people in your life will promise you far more pleasure and satisfaction than anything tried-and-true. Get out there and discover what's waiting for you beyond the horizon; from the look of things it's going to be better than any pot of gold.
Sep 19, 2021 - There's fun to be had today, Gemini, but it's probably not going to be the sexiest fun in the world. On the flipside the planets are coming together to offer you a five-star day for kicking butt at the office, so don't miss out on this epic chance to strut your stuff.
The Moon is spending the day in Pisces and your ambitious 10th House of career and professional goals, starting Sunday off on an industrious note. This transit always orients your focus towards your success rather than your sex life, but today the moon is sending out a love letter across the universe to romantic Venus, currently moving through Scorpio and your 6th House of wellness and routine.
This sector also rules your daily work life, so Venus's sexier side is translated into a more efficient drill sergeant during this transit. The best way to make use of this transit? Hit the gym and work up a sweat, preferably while wearing some sexy new athletic gear. If you think you look hot other people are sure to agree.
Sep 20, 2021 - Life has probably felt rather, well, basic lately, and even if you don't necessarily love 'exciting,' you certainly don't enjoy banal. While I certainly sympathize and know how dull life can be sometimes, I am more than happy to tell you that things are about to take a turn for the better and that life is going to become more exciting and full of options in the next couple weeks than it has been in quite some time.
It might not happen right overnight, and you may not feel it like a light switch going on, but trust that a change is coming and that new places and new people will be calling your name soon enough. Be sure you're listening out for them because you won't want to miss out when they call for you to come out and play.
More Horoscopes for gemini
Daily Horoscope Video with Debra Silverman
Daily Tarot Reading
10 of Pentacles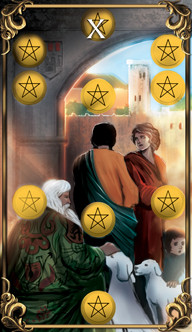 10 of Pentacles
On its face, the 10 of Pentacles appears to be a fairly simple card to read, but its rich symbolism encourages you to take its face value a little deeper into the situation at hand today. 10's in the Tarot are all about completed cycles, and so the 10 of Pentacles is telling you today that you've… Get Your Reading »
Let These Tarot Readings Help Guide You Through Your Day
Daily Gemstone & Crystal Reading
Labradorite
Labradorite Labradorite can be used to balance and protect our aura, as well as, it is often used to promote intuition and higher consciousness. This crystal is especially potent for Leos, Scorpios, and Sagittarius as they embrace their inner desire for change and growth, this is associated with its affirmation is, "I embrace transformation in my life." Its primary chakra is the Third Eye Chakra, connected to… Get Your Reading »
Want to learn more about crystals and gemstones? Let us help you!
gemini

Compatibility with other signs
---
You might also be interested in
---
Happy Halloween, Astrology Answers friends! Some folks just like a good, clean, fun spook season, but others get excited for the Halloween season because of the historical,… Read Full Article »
Fellow earthlings, we are in a MAJOR time astrologically! And I don't mean for the month, or the year, or even the decade - I mean in like, human history! Last month, on… Read Full Article »
We're about to experience a transit of epic and conflicting proportions, involving the planet of assertive energy and motivation – Mars – and the sign of emotional… Read Full Article »
Daily Horoscopes
Enter your email address below to receive your daily horoscope directly to your inbox.
Your email will be used to send you your free astrological reading, along with ongoing communications regarding your zodiac sign.
x