gemini Sex Horoscope:
Tomorrow
Apr 17, 2021 - This day is going to have you feeling a little bit all over the place, Gemini, but that doesn't mean your desires will be completely at a loss, simply that you're going to need to work a little harder to align your desires with your responsibilities.
Throughout the day messenger Mercury will form a pair of angles across the sky to sex god Mars and transormative Pluto, sending out a rather conflicting cosmic message. Mars is in your sign and wants you to go after whatever–or whomever–it is that your heart desires; unfortunately, with Pluto in the picture, you're going to need to attend to a few more important matters before you can get down to anything exciting and stimulating.
Take today to get organized and check off as many boxes as you can so that when the evening rolls around you can enjoy yourself without anything lingering over you.
Apr 18, 2021 - This is going to be a very busy day for you, Gemini, but whether or not it has any sensual aspects will be up to you and your desires. The primal Sun is nearly finished with his annual tour of Aries and garrulous 11th House of global communities and communications, tuning you in to all the things going on in the big blue yonder.
Today he'll align at the exact same degree as messenger Mercury, amping up the social vibrations all the way to the max. This could be a terrific time for meeting new people, but since this sector of your chart is more concerned with platonic relationships it's a bit difficult to say where all these conversations will lead.
Fortunately, the intuitive Moon is adding a number of beautiful angles throughout the day, so if you want to find a way to turn up the romance I'm sure you can figure something out.
Apr 19, 2021 - There's a lot going on in the sky today, Gemini, but unfortunately sex isn't exactly written in the stars. To begin with, the primal Sun is moving out of Aries and slipping in to Taurus and your hidden 12th House of the subconscious. In one month, the Sun will move on to your sign and fill you with all its cosmic gifts, but for now it's time for you to power down and get some rest before birthday season kicks in.
Couple this with the fact that your ruler, messenger Mercury, is also joining the Sun in this same sleepy sector, and, well, like I said, today isn't exactly about sex. For the next few weeks focus on streamlining yourself into a stronger, healthier version of yourself who will impress others but more importantly impress yourself. That way, when the planets come calling, you'll be ready to perform.
More Horoscopes for gemini
Daily Horoscope Video with Debra Silverman
Daily Tarot Reading
2 of Pentacles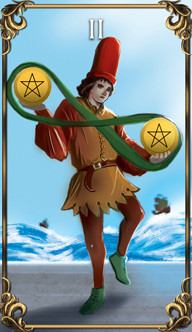 2 of Pentacles
On the 2 of Pentacles, we see a figure juggling 2 coins, the infinity symbol tying the coins together. There is a sense of give-and-take in this Tarot card, and that could be spiritually, emotionally, or financially. You may be juggling a lot of bills right now, or a lot of messages related to love.… Get Your Reading »
Let These Tarot Readings Help Guide You Through Your Day
Daily Gemstone & Crystal Reading
Red Jasper
Red Jasper "I am open to everything around me and within me," is an affirmation that is best representative of nurturing Red Jasper. This crystal is known to help those of us seeking physical protection and looking to relieve health issues involving body weakness. Red Jasper is even thought to aid in increasing vitality, that's why its stabilizing and energetic aura is particularly useful for the signs of… Get Your Reading »
Want to learn more about crystals and gemstones? Let us help you!
gemini

Compatibility with other signs
---
You might also be interested in
---
Welcome to your astrology forecast for the week of July 27 - August 2 cosmic explorers! We Begin With a First Quarter Moon Last week we said goodbye to Cancer season. This… Read Full Article »
Have you ever felt like you were batting a thousand in love? Does it feel like sometimes you are swinging and missing? When was the last time your well placed first hit a home… Read Full Article »
Welcome friends to another week of 'Ask Charla'. Here at Astrology Answers, we get a lot of questions about what someone's true purpose in this lifetime is and what might… Read Full Article »
Daily Horoscopes
Enter your email address below to receive your daily horoscope directly to your inbox.
Your email will be used to send you your free astrological reading, along with ongoing communications regarding your zodiac sign.
x