gemini Love Horoscope
Sep 19, 2021 - The Moon is in Pisces and in your 10th house. How can you allow your romantic relationship to be an example for others of what an ideal relationship looks like? 
When I say an ideal relationship, I mean one that is built on honesty, one where both partners feel permission to be themselves totally and completely while constantly challenging one another to grow. 
You might think my relationship isn't something to be "displayed" or showed off to the outside world, but we could all use more examples of successful relationships. Therefore sharing that with the word from a place of positive intention would truly be a gift to everyone. Let that love between you and your lover shine onto everyone. 
Sep 20, 2021 - The Full Moon is in Pisces and in your 10th house, however, it is also opposing the Sun in your 4th house today. 
This is emphasizing that while it is important to pay attention to the eternal aspects of your romantic partnership and have your relationship be an inspiration and example to the rest of the world, it is equally important, that you tend to the internal aspects of it as well. 
Not doing so, you risk getting lost in being too concerned with appearances, caring so much about how the world perceives your partnership, that you neglect the relationship itself. Make sure that you are the one who is content and fulfilled in your partnership. 
More Horoscopes for gemini
Sep 19, 2021 - The planets are coming together to offer you a five-star day for working your way up the professional ladder, Gemini, so don't miss out on this epic chance to show the world what you can do. The Moon is… Get Your Horoscope >>
Sep 19, 2021 - There's fun to be had today, Gemini, but it's probably not going to be the sexiest fun in the world. On the flipside the planets are coming together to offer you a five-star day for kicking butt at the… Get Your Horoscope >>
Sep 18, 2021 - Life has been pretty intense lately and while you can handle intensity just fine for the most part it's also nice to be able to kick your shoes off and go dance around in the sun. Well, I'm happy to tell… Get Your Horoscope >>
Discover Your Love Horoscope Compatibility
Is romance and love on the table in your relationship? Whether it's your current partner or someone you have feelings for, your zodiac sign can tell you so much about your love life.
Find out how compatible you and your love-interest are!
Love & Astrology Articles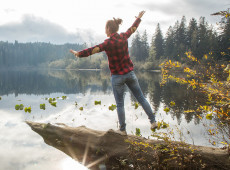 2021 has been a powerhouse of retrogrades, intense Full Moons, and, well, just intense stuff in general (and that's putting it lightly). This September, we have another… Read Full Article »
Whether you've already been having an emotional and spiritually potent year or not, the Full Moon in Pisces is ready to bring those themes to the forefront here and now. The… Read Full Article »
Are you ready to start a season of abundance? Libra season is here again to usher in themes of balance, negotiation, harmony, and social connections. But what about wealth?… Read Full Article »
Daily Horoscopes
Enter your email address below to receive your daily horoscope directly to your inbox.
Your email will be used to send you your free astrological reading, along with ongoing communications regarding your zodiac sign.
x