leo Money Horoscope
Oct 26, 2021 - The Moon is in Cancer and encouraging you to focus on your internal self, Leo. This is a time to bring balance to your relationship with money.
There may be issues around the home and your living environment which is causing you some conflict regarding finances, but now is the time to find an inner balance so that any issues you experience can be dealt with in a healthy way.
Meditating with crystals such as moonstone and labradorite can be very helpful in enabling you to achieve this balance. Remember, Leo, it all starts from within.
Oct 27, 2021 - This is a day to contemplate your finances, Leo, and not make any hasty decisions.
The Moon is in Cancer and encouraging you to go inwards in order to reach positive decisions surrounding your finances. If you're struggling with making decisions or confused about which direction to go in, today can bring some clarity and guidance.
Meditation is strongly recommended and so is walking among nature if possible as this helps to clear your mind and enables you to view things from a new perspective.
What issues do you face right now and where does your intuition and inner wisdom guide you at this time, Leo?
Oct 28, 2021 - The Moon is in your sign and encouraging you to think about your relationship to money at this time, Leo.
Do you feel you have a healthy relationship with your finances? Things may have been challenging over the course of the year, but things are looking up in the coming future so it's important to maintain a positive mindset.
Reaching out to others at this time can be helpful. There may be discussions of inheritance on the agenda. Be sure to look into all the finer details, Leo, and don't leap to conclusions.
Daily Horoscope Video with Debra Silverman
Daily Tarot Reading
2 of Pentacles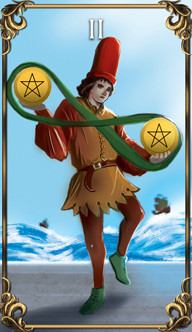 2 of Pentacles
On the 2 of Pentacles, we see a figure juggling 2 coins, the infinity symbol tying the coins together. There is a sense of give-and-take in this Tarot card, and that could be spiritually, emotionally, or financially. You may be juggling a lot of bills right now, or a lot of messages related to love.… Get Your Reading »
Let These Tarot Readings Help Guide You Through Your Day
Daily Gemstone & Crystal Reading
Blue Lace Agate
Blue Lace Agate If you've been dealing with overwhelming feelings of anger, anxiety or frustration, and have been seeing increased conflict in multiple areas of your life, you might want to invest in some Blue Lace Agate. "I communicate effectively and with ease," is the affirmation of this crystal, and its primary chakra is the Throat Chakra, which relates to communication and being able to properly express… Get Your Reading »
Want to learn more about crystals and gemstones? Let us help you!
leo

Compatibility with other signs
---
You might also be interested in
---
Welcome to your astrology forecast for the week of June 29 - July 5 beautiful souls! As we get into the swing of Cancer season and bid last week goodbye, we have three main events… Read Full Article »
Do you have an energy vampire in your life? We've all had people in our lives, whether family, friends, or colleagues, that are a drain on our energy. In some circumstances, we… Read Full Article »
You may know your zodiac sign, your Moon sign, and your representative Tarot card, but we all know that so much more goes into forging you into "you" than we may first… Read Full Article »
Daily Horoscopes
Enter your email address below to receive your daily horoscope directly to your inbox.
Your email will be used to send you your free astrological reading, along with ongoing communications regarding your zodiac sign.
x