pisces Money Horoscope
Sep 18, 2021 - Today brings the chance to concentrate on your sense of self, Pisces, as the Moon is in your sign and enhancing your creative energy.
It is a good time to focus on your relationship with money and how it makes you feel. Is it having a negative impact on you or a positive one? Sometimes it is necessary to dig deep in order to find resolutions to troubles you have.
Spend time among nature as this is highly therapeutic for you and can help you find greater clarity within. Take time to listen to your intuition. What is it trying to tell you, Pisces?
Sep 19, 2021 - Under the Moon in your sign, you may be feeling quite nostalgic, Pisces, and it wouldn't be unusual if you took a trip down memory lane.
Delving into your past is a good way to deal with the present. Just make sure you don't get stuck there. Don't beat yourself up over past financial mistakes. Everything is a learning curve, designed to teach us something.
Be positive and focus on your long-term goals. You may need to make some adjustments. Your imagination is very strong right now.
What ideas do you have today which could result in positive financial outcomes in the future, Pisces?
Sep 20, 2021 - Happy Full Moon, Pisces!
This is a powerful time for focusing on what lies within and it's important to consider the impact your finances are having on your health and well-being. Do you have a good balance between the physical world and the material world?
This is a powerful time of understanding and several realizations may crop up at this time as this Full Moon is in your sign and it is an intense time of transformation.
Take time to engage in a Full Moon ritual. Light a candle, burn some incense, and speak your desires out loud. What messages does the universe have for you today, Pisces?
More Horoscopes for pisces
Daily Horoscope Video with Debra Silverman
Daily Tarot Reading
10 of Pentacles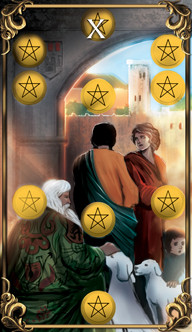 10 of Pentacles
On its face, the 10 of Pentacles appears to be a fairly simple card to read, but its rich symbolism encourages you to take its face value a little deeper into the situation at hand today. 10's in the Tarot are all about completed cycles, and so the 10 of Pentacles is telling you today that you've… Get Your Reading »
Let These Tarot Readings Help Guide You Through Your Day
Daily Gemstone & Crystal Reading
Labradorite
Labradorite Labradorite can be used to balance and protect our aura, as well as, it is often used to promote intuition and higher consciousness. This crystal is especially potent for Leos, Scorpios, and Sagittarius as they embrace their inner desire for change and growth, this is associated with its affirmation is, "I embrace transformation in my life." Its primary chakra is the Third Eye Chakra, connected to… Get Your Reading »
Want to learn more about crystals and gemstones? Let us help you!
pisces

Compatibility with other signs
---
You might also be interested in
---
Do you know how spectacular you are? Do you know that you are a genius? Albert Einstein said, "Everybody is a genius, but if you judge a fish by its ability to climb a tree, it… Read Full Article »
Happy birthday, Sagittarius! It's that time again. Finally! Scorpio energy has been awesome to play with but it has been a little bit intense, no? Hopefully you enjoyed all of… Read Full Article »
We keep asking if you are excited and ready for Spring. Are you? We've even wished you happy new year through it all! Are you having a fabulous new year yet? Or do you still… Read Full Article »
Daily Horoscopes
Enter your email address below to receive your daily horoscope directly to your inbox.
Your email will be used to send you your free astrological reading, along with ongoing communications regarding your zodiac sign.
x