pisces Love Horoscope
Sep 19, 2021 - Do you know how to give yourself as much love as you do your romantic partner? Is it easy for you to not completely lose yourself in your lover, remembering that it's equally important to devote time and energy to self-love? 
These are relevant questions to ask yourself today as the Moon is in Pisces and your 1st house of self. It is so common for us to get so swept up in our partner's world, taking care of their needs while neglecting ours. This is a perfect time for you to do practices that nourish you and give you pleasure. 
Doing so allows you to be more fulfilled in your own being which immediately allows you to be more capable of pouring that energy and love into your relationship. 
Sep 20, 2021 - The Full Moon is in Pisces and in your 1st house of self, however, it is also opposing the Sun in your 7th house of partnership. This planetary configuration is emphasizing the importance of finding the balance between independence and closeness with your partner. 
In order to have a healthy and fulfilling relationship, it is important that you know how to take care of your own needs and feel complete within yourself outside of your partnership. This allows you to be more present when you are with your partner as you feel content within yourself. 
This is a good time to practice learning when it's needed to compromise and give your partner what they need and knowing when it's necessary to focus on your own needs. 
More Horoscopes for pisces
Sep 19, 2021 - You've got your nose on the money today, Pisces, so trust your instincts and if an unusual opportunity comes your way take a leap of faith and don't be scared. There's a harmonious angle occurring in the… Get Your Horoscope >>
Sep 19, 2021 - You're tapped into something primal and magical, Pisces, so trust your instincts and if a romantic proposition comes your way out of the blue take a leap of faith and let it take you where it may. There's a… Get Your Horoscope >>
Sep 18, 2021 - Sometimes in order to move forward we need to move backwards, Pisces, and while that hardly sounds like an exciting opener to a sex horoscope the truth is hardly every exciting so make of that what you will.… Get Your Horoscope >>
Discover Your Love Horoscope Compatibility
Is romance and love on the table in your relationship? Whether it's your current partner or someone you have feelings for, your zodiac sign can tell you so much about your love life.
Find out how compatible you and your love-interest are!
Love & Astrology Articles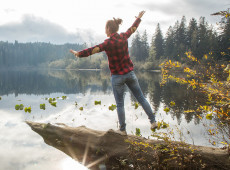 2021 has been a powerhouse of retrogrades, intense Full Moons, and, well, just intense stuff in general (and that's putting it lightly). This September, we have another… Read Full Article »
Whether you've already been having an emotional and spiritually potent year or not, the Full Moon in Pisces is ready to bring those themes to the forefront here and now. The… Read Full Article »
Are you ready to start a season of abundance? Libra season is here again to usher in themes of balance, negotiation, harmony, and social connections. But what about wealth?… Read Full Article »
Daily Horoscopes
Enter your email address below to receive your daily horoscope directly to your inbox.
Your email will be used to send you your free astrological reading, along with ongoing communications regarding your zodiac sign.
x