pisces Love Horoscope:
Tomorrow
May 16, 2022 - The Moon is in Sag and in your 10th house today, this is bringing the focus on the public and external aspect of your relationship. Is the image that you present to the world of your romantic partnership an accurate portrayal of the reality of it?
We are so conditioned to hide the "negative" or harder parts of our lives, including our relationships from the outside world. However, there can be something incredibly cathartic and healing when we are honest with the world about the things we are going through in our intimate connections.
This provides you and others with the ability to relate to one another and offer each other possible helpful input on what you're experiencing.
Also, in regard to the more positive parts of your romantic partnerships, when you have a beautiful relationship with your lover, allowing others to experience that is an inspiration of what healthy partnerships can look like.
May 17, 2022 - The Moon is in Sag and in your 10th house, however it is also squaring Neptune in your 1st house. 
Notice that the more you learn to be centered within your self, the more successful your romantic partnerships end up being and therefore serve as a good example for the world of what a healthy and fulfilling relationship can look like. It is so important that you take care of your emotional and personal needs just as you do those of your lovers. 
So often we can get consumed by the other that we end up feeling empty and resentful. Practice doing things that fill you up and nourish your soul so that you and your partner may be able to do the work out there in the world. 
May 18, 2022 - The Moon is in Cap and in your 11th house today. Do you have a sense of friendship in your intimate relationships? Do you feel that you and your partner aspire towards the same goals and ideals in your personal and joint lives? These are all great questions to contemplate.
If you feel like any of those things are missing from your romantic partnerships, this is the perfect time to practice introducing them more into your relationships. People forget that it's so important to not just have a romantic connection with their partner, but to also have friendship.
Relationships that have friendship as a big part of their foundation tend to last a lot longer, because those involved are seeing one another more realistically and projecting less of their romantic ideals on each other.
It is also crucial that you and your partner have mental compatibility and strive towards creating similar things in your lives. That allows the partnership to be a propeller towards your dreams.
More Horoscopes for pisces
May 17, 2022 - There's an incredibly powerful alignment in the sky today, and if you take proper advantage of it you could really ratchet up your net worth. Luxury-loving Venus is currently in your 2nd House of earned… Get Your Horoscope >>
May 17, 2022 - Things could get a little heated at the office today, but not exactly in the way you might be expecting. Romantic Venus and the intuitive Moon are coming together in their twice-a-month trine, and this time it… Get Your Horoscope >>
May 16, 2022 - You've been so insular lately, and even if for you personally that doesn't mean much by comparison to the other signs, chances are you've been only too aware of the general slowdown throughout the… Get Your Horoscope >>
Discover Your Love Horoscope Compatibility
Is romance and love on the table in your relationship? Whether it's your current partner or someone you have feelings for, your zodiac sign can tell you so much about your love life.
Find out how compatible you and your love-interest are!
Love & Astrology Articles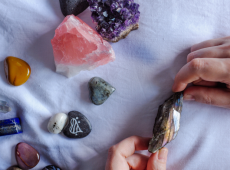 The sociable, quick-witted, and intelligent folks born in the sign of Gemini tend to have brilliant advice-givers among them. If you have a problem, turn to a Gemini, and a… Read Full Article »
Do you have any buried feelings that need to be revealed or creative ideas that are begging for your attention? Then the stars are here to help you release and move forward into… Read Full Article »
Have you ever noticed how some people go out of their way to avoid confrontation while others seem to get a kick out of stirring things up? Everyone responds to conflict in a… Read Full Article »
Daily Horoscopes
Enter your email address below to receive your daily horoscope directly to your inbox.
Your email will be used to send you your free astrological reading, along with ongoing communications regarding your zodiac sign.
x