sagittarius Career Horoscope
Sep 18, 2021 - How much do you allow yourself to rest? Do you permit yourself time to just be, relax and rejuvenate? The Moon is in Pisces and in your 4th house, and is asking you to reflect on those things. 
If you're the kind of person who gets caught up in the mode of working non-stop, forgetting to take a break every now and then, practice doing things differently. 
We forget that in order to keep working at an efficient and productive level, it is necessary that we take downtime to refill our energy reserves in order to keep going. 
Sep 19, 2021 - How much do you rest? Do you allow yourself downtime to replenish your energy? These are good questions to ask yourself today as the Moon is in Pisces and in your 4th house. 
Do you get so caught up in working that you forget that it's just as important to rest? When you don't do that, you risk burning out which prevents you from being as efficient and productive as you want to be. 
Practice taking it slow and easy today and direct your energy more internally.
Sep 20, 2021 - Are you able to realize the importance of directing just as much of your energy internally as you do externally? The Pisces Full Moon occurs today in your 4th and is asking you to reflect on that. 
Its very common for us to get caught up in the (unhealthy) cycle of working nonstop, especially in this day and age where everything is happening at a quick pace. In order for you to stay in touch with what you seek to build for yourself in your career, you need to allow yourself the time to go slow, just be and contemplate on things. 
These couple of days are a great time for you to learn how to allow yourself more downtime, and meditate on how your ability (or lack of) in doing so, impacts your career. 
More Horoscopes for sagittarius
Daily Horoscope Video with Debra Silverman
Daily Tarot Reading
10 of Pentacles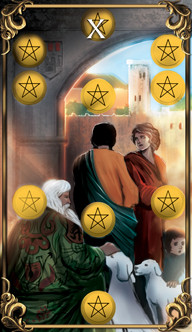 10 of Pentacles
On its face, the 10 of Pentacles appears to be a fairly simple card to read, but its rich symbolism encourages you to take its face value a little deeper into the situation at hand today. 10's in the Tarot are all about completed cycles, and so the 10 of Pentacles is telling you today that you've… Get Your Reading »
Let These Tarot Readings Help Guide You Through Your Day
Daily Gemstone & Crystal Reading
Labradorite
Labradorite Labradorite can be used to balance and protect our aura, as well as, it is often used to promote intuition and higher consciousness. This crystal is especially potent for Leos, Scorpios, and Sagittarius as they embrace their inner desire for change and growth, this is associated with its affirmation is, "I embrace transformation in my life." Its primary chakra is the Third Eye Chakra, connected to… Get Your Reading »
Want to learn more about crystals and gemstones? Let us help you!
sagittarius

Compatibility with other signs
---
You might also be interested in
---
Where do you turn when your world feels like it's spinning out of control? We all have our own rituals to help us maintain inner peace in times of struggle, but it can't hurt… Read Full Article »
Have you ever wondered exactly what your aura is and how you can protect it? Then you've come to the right place! Auras can be a tricky subject, as not everyone believes in… Read Full Article »
Every sign in the zodiac is exquisitely unique, especially when it comes to romance and dating. Dinner and a movie have always been a classic go to for an ideal date, but why not… Read Full Article »
Daily Horoscopes
Enter your email address below to receive your daily horoscope directly to your inbox.
Your email will be used to send you your free astrological reading, along with ongoing communications regarding your zodiac sign.
x