scorpio Career Horoscope
Sep 18, 2021 - Do you experience joy and pleasure at your job? Do you feel inspired doing what you do? As the Moon is in Pisces and in your 5th house of creative self-expression, these are relevant topics to meditate on. 
It is crucial that you find happiness at your work, otherwise, you risk turning into someone who lives their life robotically, doing things mindlessly without imbuing them with your unique and personal flavor. 
If that is your current reality at your job, what are the things you can shift in order to change that? 
Sep 19, 2021 - Do you enjoy your work? Do you feel inspired in what you do? These are relevant questions to ponder as the Moon is in Pisces and in your 5th house of creative self-expression. Practice bringing more of your creative vision into your work. 
Otherwise, you risk falling into the mundaneness of your job, resulting in you feeling incredibly bored and resentful of work. Ask yourself how you can bring more of that creativity into your work. 
If you have the belief that work can't or shouldn't be a pleasurable experience, ask yourself why that is and change that. One of the key ingredients to success is loving what you do. 
Sep 20, 2021 - Are you inspired in what you do? Do you have an easy time tapping into your creative voice? Is your job something you enjoy? Ponder on these questions today as the Pisces Full Moon is occurring in your 5th house of creative self expression. 
It's so important that you feel that there's room for your creativity in your work. Otherwise you're living your life like a robot, doing things mundanely without infusing them with your uniqueness. 
Also, ask yourself how can you being your creative self expression into the groups that you work with, allowing yourself to inspire and be inspired. 
More Horoscopes for scorpio
Daily Horoscope Video with Debra Silverman
Daily Tarot Reading
10 of Pentacles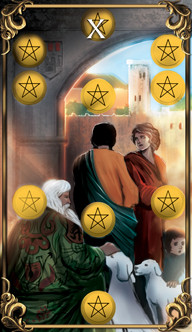 10 of Pentacles
On its face, the 10 of Pentacles appears to be a fairly simple card to read, but its rich symbolism encourages you to take its face value a little deeper into the situation at hand today. 10's in the Tarot are all about completed cycles, and so the 10 of Pentacles is telling you today that you've… Get Your Reading »
Let These Tarot Readings Help Guide You Through Your Day
Daily Gemstone & Crystal Reading
Labradorite
Labradorite Labradorite can be used to balance and protect our aura, as well as, it is often used to promote intuition and higher consciousness. This crystal is especially potent for Leos, Scorpios, and Sagittarius as they embrace their inner desire for change and growth, this is associated with its affirmation is, "I embrace transformation in my life." Its primary chakra is the Third Eye Chakra, connected to… Get Your Reading »
Want to learn more about crystals and gemstones? Let us help you!
scorpio

Compatibility with other signs
---
You might also be interested in
---
​There are few things more exciting or nerve-wracking than getting a tattoo, whether it's your first or fifteenth. The energy that goes into conceptualizing a design, picking,… Read Full Article »
Hello beautiful souls! This week offers a rare opportunity in the 2020 forecast to start something truly epic. 2020 has been preparing you for this moment, where you can be… Read Full Article »
Associated with Fire and the aspect of the soul, the suit of wands in the Tarot brings with it a sensation of intensity, inspiration, and creativity. The fastest-moving suit in… Read Full Article »
Daily Horoscopes
Enter your email address below to receive your daily horoscope directly to your inbox.
Your email will be used to send you your free astrological reading, along with ongoing communications regarding your zodiac sign.
x