scorpio Love Horoscope
Sep 19, 2021 - This is a great time to allow yourself to just enjoy yourself in your romantic partnerships and have some fun! The Moon is in Pisces and in your 5th house of romance. How are you at allowing yourself to just experience pleasure and fun in your relationships? 
While yes, it is important to take care of the more "serious" aspects of your partnerships it is equally necessary to remember the lighter parts as well. Because if you forget to do so, you risk getting swamped by all the hard work, that naturally every relationship requires, and feeling like it is more of a burden than something enjoyable and satisfying. 
So ask yourself what are some things you can do with your partner or yourself that allow you to tap into those feelings. 
Sep 20, 2021 - The Full Moon is in Pisces and in your 5th house of romance, however, it is also opposing the Sun in your 11th house as well. 
This is highlighting the necessity of finding a balance between having fun with your partner, experiencing sexual pleasure with them and then also being able to be friends for one another and fulfill one another on other levels. 
Levels including the mental/intellectual ones. Just having the fun and sexual aspects of your relationship be the foundation of it, you risk having the partnership not last too long, as those tend to fizzle out with time or just change in the way they manifest. 
This is why it is also healthy to have friendship be a foundation in your relationship, having the sense that you can trust your partner and experience closeness on many levels.
More Horoscopes for scorpio
Sep 19, 2021 - The world is your oyster today, Scorpio, so don't sit around waiting for something wonderful to happen–get out there and mine all the opportunities the world has to offer! Luxury-loving Venus is currently… Get Your Horoscope >>
Sep 19, 2021 - No one can turn you down today, Scorpio, so don't sit around waiting for something wonderful to happen–get out there and follow your desires! Romantic Venus is currently sashaying her way through your sign… Get Your Horoscope >>
Sep 18, 2021 - You've been a busy, busy bee for quite some time, Scorpio, and while it is a wonderful thing to get out and socialize it can sometimes be a bit overwhelming when it comes to actually processing all the new… Get Your Horoscope >>
Discover Your Love Horoscope Compatibility
Is romance and love on the table in your relationship? Whether it's your current partner or someone you have feelings for, your zodiac sign can tell you so much about your love life.
Find out how compatible you and your love-interest are!
Love & Astrology Articles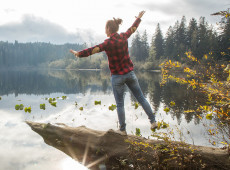 2021 has been a powerhouse of retrogrades, intense Full Moons, and, well, just intense stuff in general (and that's putting it lightly). This September, we have another… Read Full Article »
Whether you've already been having an emotional and spiritually potent year or not, the Full Moon in Pisces is ready to bring those themes to the forefront here and now. The… Read Full Article »
Are you ready to start a season of abundance? Libra season is here again to usher in themes of balance, negotiation, harmony, and social connections. But what about wealth?… Read Full Article »
Daily Horoscopes
Enter your email address below to receive your daily horoscope directly to your inbox.
Your email will be used to send you your free astrological reading, along with ongoing communications regarding your zodiac sign.
x