virgo Career Horoscope
Sep 18, 2021 - Do you feel satisfied within your partnerships at work? Is there an element of mutuality and trust in those connections of yours? 
These are pertinent questions to reflect on today as the Moon is in Pisces and in your 7th house of business partnerships. If not, why is that and what are the things that you can do differently or change in order to have healthier and more fulfilling relations at your job. 
Healthy and productive relationships are built on trust, reciprocity and hard work. Make sure that those you're in partnership with are seeking the same things you are, and are willing to show up fully in relation to you and vice versa.
Sep 19, 2021 - Bring your attention to your business partnerships. What's the nature of your relationships with those whom you work with? Today the Moon is in Pisces and in your 7th house.
Can you afford to compromise more in your interactions with others? A necessary ingredient to achieving what you want in your career is working alongside others. And you can't make that happen if you want everything to go your way. 
Also, maybe it's the opposite way around for you, do you tend to compromise too much, giving the other person precedence over yourself? Find the balance between those essential traits. 
Sep 20, 2021 - Today the Pisces Full Moon is occurring in your 7th house and is inviting you to look at the nature of your business partnerships. Do you trust those whom you're in relationship with? Do you have the willingness to compromise and find a balance between what you want and what the other person wants? 
This Full Moon is emphasizing the importance of finding that balance. While it's important to be skillful in your ability to accommodate other people's needs, it's equally crucial that you don't lose touch with your own self and desires. 
Find that sweet spot where both of you and the other are able to bring yourselves fully. Through that you have the potential to contribute so much more to the partnership.
More Horoscopes for virgo
Daily Horoscope Video with Debra Silverman
Daily Tarot Reading
10 of Pentacles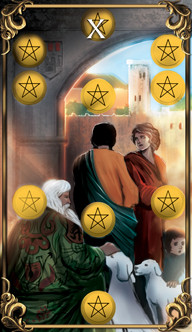 10 of Pentacles
On its face, the 10 of Pentacles appears to be a fairly simple card to read, but its rich symbolism encourages you to take its face value a little deeper into the situation at hand today. 10's in the Tarot are all about completed cycles, and so the 10 of Pentacles is telling you today that you've… Get Your Reading »
Let These Tarot Readings Help Guide You Through Your Day
Daily Gemstone & Crystal Reading
Labradorite
Labradorite Labradorite can be used to balance and protect our aura, as well as, it is often used to promote intuition and higher consciousness. This crystal is especially potent for Leos, Scorpios, and Sagittarius as they embrace their inner desire for change and growth, this is associated with its affirmation is, "I embrace transformation in my life." Its primary chakra is the Third Eye Chakra, connected to… Get Your Reading »
Want to learn more about crystals and gemstones? Let us help you!
virgo

Compatibility with other signs
---
You might also be interested in
---
Are you ready for the Sun to move into the dark and mysterious sign of Scorpio? This planetary ingress signals a new zodiac season and new energy that comes along with it. Get… Read Full Article »
What does your future hold? What about those parts of the present moment that you might be missing? Life is full of mysteries, and it can be hard to stay focused when you're… Read Full Article »
It can be fun and very insightful to compare your compatibility using the different astrological systems. The Chinese Zodiac is divided into 12 animals and 5 elements (Western… Read Full Article »
Daily Horoscopes
Enter your email address below to receive your daily horoscope directly to your inbox.
Your email will be used to send you your free astrological reading, along with ongoing communications regarding your zodiac sign.
x