libra Career Horoscope
Sep 18, 2021 - Discipline is discipleship, this means that discipline isn't thinking "oh, I hate doing this but I have to do it anyway." It means knowing that you're doing what you're doing because it is paving the way for you to accomplish what you want to. 
It is about being a disciple, a student in service of whatever cause you're devoting yourself to, even if its solely a personal one. 
The Moon is in Pisces and in your 6th house of daily routine and work and this is a topic to deeply contemplate on. It is the things that we do every day that create our overall reality and determine whether we can achieve what we want to or not. 
Sep 19, 2021 - How disciplined are you in the way you go about your work? Are you able to maintain the focus necessary to take care of and manage all the details that need tending to? 
These are all questions to ask yourself today as the Moon is in Pisces and in your 6th house of work and daily routine. Observe your relationship to those aspects of your work. 
Observe if one of your habits is putting things off until they accumulate and you end up falling behind and feeling overwhelmed. If that's true, create a schedule and lists for yourself that will help you stay on top of things.
Sep 20, 2021 - How disciplined are you in the way you go about your work? Are you able to stay on task with all the things you need to get done? The Pisces Full Moon today is happening in your 6th house of work and daily routine and these are all relevant questions to reflect on. 
Getting where you want in your career takes effort, it's the practices you adopt in your everyday life, that create your larger reality. This is a good time for you to create a schedule for yourself, outlining everything you need to get done and by when you'd like to finish it. 
Learn how to get more focused in how you approach you work. Also, learn how to work through the negative feelings you have about your job that could be preventing you from performing optimally at it. 
More Horoscopes for libra
Daily Horoscope Video with Debra Silverman
Daily Tarot Reading
10 of Pentacles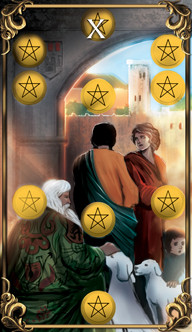 10 of Pentacles
On its face, the 10 of Pentacles appears to be a fairly simple card to read, but its rich symbolism encourages you to take its face value a little deeper into the situation at hand today. 10's in the Tarot are all about completed cycles, and so the 10 of Pentacles is telling you today that you've… Get Your Reading »
Let These Tarot Readings Help Guide You Through Your Day
Daily Gemstone & Crystal Reading
Labradorite
Labradorite Labradorite can be used to balance and protect our aura, as well as, it is often used to promote intuition and higher consciousness. This crystal is especially potent for Leos, Scorpios, and Sagittarius as they embrace their inner desire for change and growth, this is associated with its affirmation is, "I embrace transformation in my life." Its primary chakra is the Third Eye Chakra, connected to… Get Your Reading »
Want to learn more about crystals and gemstones? Let us help you!
libra

Compatibility with other signs
---
You might also be interested in
---
We're now well into 2021, and one of the things we have to focus on every year astrologically is retrogrades. So let's explore the 2021 retrogrades and see what the rest of… Read Full Article »
The New Moon on Taurus occurs on the 23rd April 2020, an exciting time for many as it is a time for new beginnings, releasing what no longer serves you and setting new intentions… Read Full Article »
When asked what our worst fear is, most of us would respond with something tangible, like spiders, snakes or a fear of heights. If you really looked inside yourself though, your… Read Full Article »
Daily Horoscopes
Enter your email address below to receive your daily horoscope directly to your inbox.
Your email will be used to send you your free astrological reading, along with ongoing communications regarding your zodiac sign.
x