scorpio Health Horoscope:
Tomorrow
Oct 26, 2021 - You might feel like spending time at home today, Scorpio, enjoying your favorite self-care activities. This can be a great day for emotional healing as long as you don't ignore your feelings. Try writing your emotions down to acknowledge and release them.
Chalcedony is a stone of compassion and kindness, and working with it will help you feel more gentle with yourself. Keep a piece of this crystal in your left pocket throughout the day to encourage positivity.
Tuna is low in calories and fat, high in protein, and it tastes amazing over salad. Try topping a spinach salad with tuna, lemon, pepper, and feta cheese for a zesty, nutritious lunch today, Scorpio.
Oct 27, 2021 - You're drawn to the mystical aspects of life today, Scorpio. You may feel like exploring metaphysical subjects, like tarot, astrology, and crystal healing. Follow your intuition and participate in activities that bring you closer to the energy of the Universe.
Labradorite is a creative, intuitive crystal that will connect you to your higher self today. Place labradorite near your notepad while you write to help inspired thoughts and ideas flow.
Silica is necessary for the body because it keeps the gums, skin, and hair healthy. Include raw salads, green peppers, and strawberries in your diet to make sure you're getting enough silica, Scorpio.
Oct 28, 2021 - Your relationships may take on a competitive tone today, Scorpio, especially if they already possess tension. Be gentle with yourself and others and try to remember that we all make mistakes. Balancing the chakras will help you find the compassion you need today.
Lapis lazuli is a crystal that promotes awareness, allowing you to recognize negative behavior patterns. Carry a piece of lapis lazuli with you for a deeper connection to your subconscious today.
Cauliflower is a cruciferous vegetable known for its nutritious, versatile nature. Roasted cauliflower with hot sauce and blue cheese crumbles make a delicious, meatless alternative to hot wings, Scorpio.
More Horoscopes for scorpio
Daily Horoscope Video with Debra Silverman
Daily Tarot Reading
2 of Pentacles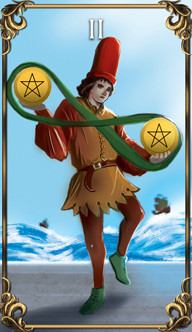 2 of Pentacles
On the 2 of Pentacles, we see a figure juggling 2 coins, the infinity symbol tying the coins together. There is a sense of give-and-take in this Tarot card, and that could be spiritually, emotionally, or financially. You may be juggling a lot of bills right now, or a lot of messages related to love.… Get Your Reading »
Let These Tarot Readings Help Guide You Through Your Day
Daily Gemstone & Crystal Reading
Blue Lace Agate
Blue Lace Agate If you've been dealing with overwhelming feelings of anger, anxiety or frustration, and have been seeing increased conflict in multiple areas of your life, you might want to invest in some Blue Lace Agate. "I communicate effectively and with ease," is the affirmation of this crystal, and its primary chakra is the Throat Chakra, which relates to communication and being able to properly express… Get Your Reading »
Want to learn more about crystals and gemstones? Let us help you!
scorpio

Compatibility with other signs
---
You might also be interested in
---
We have some really great news for you hailing from the ancient Chinese Zodiac! February 5th kicks off the success-laden year of the Earth Pig! If you're new to Chinese… Read Full Article »
Greetings, Earthlings! We don't have too many transits or big shakeups on the docket this week, and you can thank the Universe for that. If you made it through last week's… Read Full Article »
It's that time of year when we stress about the perfect gift to get each of the important people in our lives, and it needs to be affordable and meaningful. Maybe you're… Read Full Article »
Daily Horoscopes
Enter your email address below to receive your daily horoscope directly to your inbox.
Your email will be used to send you your free astrological reading, along with ongoing communications regarding your zodiac sign.
x