scorpio Health Horoscope:
Tomorrow
Apr 17, 2021 - Your emotions rise to the surface today, Scorpio, but you also feel more creative than ever. Express your feelings through creative, artistic endeavors, like painting, writing, singing, or dancing. Being creative will help you feel more aligned with the energy of the Universe.
Tibetan quartz is one of the most powerful crystals available, absorbing negativity and healing the nervous system. Incorporate a piece of Tibetan quartz into your meditation by holding it or placing it near the left side of your body.
Broccoli is a fantastic source of vitamins C and K, as well as fiber. Try including raw or steamed broccoli in your diet today for a boost of energy and nutrition, Scorpio.
Apr 18, 2021 - Your words may come across as aggressive today, Scorpio, especially if you feel frustrated or tense. Try to focus on releasing your negativity to make sure that you don't start unnecessary arguments with colleagues or loved ones. Physical exercise can help you release this tension.
Chrysocolla is relaxing and peaceful, and this stone will alleviate any stress that you're carrying today. Hold a piece of chrysocolla in your left hand and breathe deeply to promote peace and harmony.
Chia seeds are healthy and filling, as they absorb water and help to keep your stomach feeling full. Sprinkle chia seeds on your morning yogurt, in a smoothie, or even on a salad today, Scorpio.
Apr 19, 2021 - You feel more social than usual today, Scorpio, encouraging connection with those around you. If your energy is balanced, you will be able to negotiate and create compromise today. Try starting the day with yoga to balance the body and the mind.
Tree agate is a crystal that will help you nurture your ideas and follow your intuition today. Place a piece of tree agate near your body when working or making decisions to connect to your center of wisdom.
Oranges are well-known for being rich in vitamin C, and freshly squeezed orange juice is a refreshing addition to any breakfast. Begin the day with a glass of fresh-squeezed orange juice for more energy and health today, Scorpio.
More Horoscopes for scorpio
Daily Horoscope Video with Debra Silverman
Daily Tarot Reading
2 of Pentacles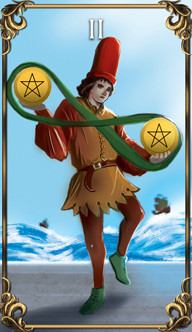 2 of Pentacles
On the 2 of Pentacles, we see a figure juggling 2 coins, the infinity symbol tying the coins together. There is a sense of give-and-take in this Tarot card, and that could be spiritually, emotionally, or financially. You may be juggling a lot of bills right now, or a lot of messages related to love.… Get Your Reading »
Let These Tarot Readings Help Guide You Through Your Day
Daily Gemstone & Crystal Reading
Red Jasper
Red Jasper "I am open to everything around me and within me," is an affirmation that is best representative of nurturing Red Jasper. This crystal is known to help those of us seeking physical protection and looking to relieve health issues involving body weakness. Red Jasper is even thought to aid in increasing vitality, that's why its stabilizing and energetic aura is particularly useful for the signs of… Get Your Reading »
Want to learn more about crystals and gemstones? Let us help you!
scorpio

Compatibility with other signs
---
You might also be interested in
---
Greetings, Earthlings! We have a long-awaited slow and steady week from the Universe, friends. There are no major movements from the planets this week, and that will bring some… Read Full Article »
The 6th house of your birth chart deals with your current environment and living situation. This includes your home and your pets. It also includes your work environment, your… Read Full Article »
Each crystal has unique properties, and many stones work tirelessly to promote positive energy and harmony. But one crystal is so proficient, so incredible at promoting harmony… Read Full Article »
Daily Horoscopes
Enter your email address below to receive your daily horoscope directly to your inbox.
Your email will be used to send you your free astrological reading, along with ongoing communications regarding your zodiac sign.
x