sagittarius Love Horoscope:
Tomorrow
May 06, 2021 - The Moon is in Pisces and in your 4th house, however it is also squaring Mercury in your 7th house of partnership. This configuration is emphasizing that while it is necessary to take care of your needs, allow yourself downtime to just rest and be more internal.
It is as equally important that you don't get so complacent and stuck in your habits and routines that you end up neglecting to put effort into your romantic partnership. 
Make sure that you are also tending to your lover's needs and wants, and have the ability to compromise when needed. Also, learn how you can bring your partner into your personal/internal world, in such a way that those two parts of your life don't feel totally separate. 
May 07, 2021 - Do you feel it comes naturally to you to remain in touch with the fun and pleasurable parts of your romantic relationships? This is a good question to ask yourself today as the Moon is in Aries and your 5th house of romance. It is so common that people experience so much more fun, closeness and pleasure at the beginning of a relationship and for all of that to eventually begin to fizzle out. 
Part of that is a natural part of the way things in life progress. New things tend to be more exciting and stimulating, but there's also a big part of it that is your responsibility. Ask yourself what you can do with your partner that can help spark that playful spirit within you. 
This is a great time to plan something together that you experience as fun and romantic. Also, how can you allow your creativity to come into play in your relationships and at the same time let that connection be something that inspires you in other areas of your life? 
May 08, 2021 - The Moon is in Aries and in your 5th house of romance, however it is also squaring Mars in your 8th house. Do you feel like you have a healthy balance between the fun, lighter aspects of your romantic partnerships and the heavier/more intense ones? 
Healthy and fulfilling relationships have a combination of the two. In order to have true intimacy and depth within your relationship, it is necessary that you feel secure in your connection and have trust in your partner to share with them the parts of yourself that you generally don't expose to the public world. The parts of you that you might deem darker or less perky.
If you can't share that with your nearest and dearest who else can you share it with? 
More Horoscopes for sagittarius
May 07, 2021 - It may indeed be a Friday and you could focus on getting work done, but truth be told that's probably not going to be taking the top place of priority on your agenda. The emotional Moon is swimming her way… Get Your Horoscope >>
May 07, 2021 - The weekend is arriving and it looks like you're ready to get your heels in the air and enjoy yourself to the full extent, Sagittarius.  The emotional Moon is sailing through Aries and your passionate 5th… Get Your Horoscope >>
May 06, 2021 - There is a lot going on in the heavens today, Sag, and while some signs will be putting this energy to positive effect in the bedroom, I don't exactly see that outlined in your daily planetary program. The… Get Your Horoscope >>
Discover Your Love Horoscope Compatibility
Is romance and love on the table in your relationship? Whether it's your current partner or someone you have feelings for, your zodiac sign can tell you so much about your love life.
Find out how compatible you and your love-interest are!
Love & Astrology Articles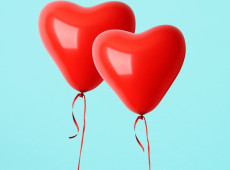 When it comes to love and matters of the heart, we look to the movements of the planet Venus for insight. And she's on the move yet again, this time into communicative, curious… Read Full Article »
On May 5th, the planet Jupiter in Aquarius turns anaretic, entering the anaretic degree as it's gearing up to move into Pisces. This means big energy is here! Jupiter in… Read Full Article »
Are you starting to feel a surge in mental energy? You can thank Mercury moving into Gemini for that! Read Full Article »
Daily Horoscopes
Enter your email address below to receive your daily horoscope directly to your inbox.
Your email will be used to send you your free astrological reading, along with ongoing communications regarding your zodiac sign.
x