libra Love Horoscope:
Tomorrow
May 17, 2022 - The Moon is in Sag and in your 3rd house of communication, it is also squaring Neptune in your 6th house. This configuration is emphasizing the importance of tending to the day to day aspects that go into building a healthy and successful romantic partnership. 
While it is important to have a mental connection with your lover and have the ability to discuss different ideas and concepts with them, it is just as crucial to be invested in the more material and practical dimensions of your partnership, like dedicating a time of the day where you do something with your partner with total presence. 
Also, make sure that you are putting the energy and effort necessary into making your romantic relationships work. 
May 18, 2022 - Do you know how to just relax with your partner at home and still manage to enjoy yourself just as much as if you were to go out and do something fun? Is it easy or hard for you to be in stillness with your lover? 
These are all good questions to contemplate on as the Moon is in Cap and in your 4th house today. It is crucial that you feel like you can spend time with your partner where you aren't "doing" so much as you are just being with one another. 
One indicator that you are genuinely close to someone and have a solid connection is being able to be with them without needing distractions or needing to converse all the time. 
This would be a great time to practice spending time with your partner at home, maybe you can cook dinner for them and just cuddle. Allow yourself to experience pleasure doing those simple yet meaningful things. 
May 19, 2022 - The Moon is in Cap and in your 4th house, however it is also squaring Venus in your 7th house of partnership. This configuration is emphasizing that while it is necessary to take care of your needs, allow yourself downtime to just rest and be more internal.
It is as equally important that you don't get so complacent and stuck in your habits and routines that you end up neglecting to put effort into your romantic partnership. 
Make sure that you are also tending to your lover's needs and wants, and have the ability to compromise when needed. Also, learn how you can bring your partner into your personal/internal world, in such a way that those two parts of your life don't feel totally separate. 
More Horoscopes for libra
May 18, 2022 - Issues of equality could rear up in your closest relationships today. Perhaps you feel like you've been treating more than being treated, and the outflow of resources is starting to make you feel more than a… Get Your Horoscope >>
May 18, 2022 - Your sign loves to create a harmonious environment wherever you go, and this is especially true when it comes to romance. Today, however, your feelings might get the better of you thanks to someone throwing a… Get Your Horoscope >>
May 17, 2022 - This is going to be something of a wild day, so if you have romantic plans there's no reason they can't come to fruition, it just might take an extra bit more planning than you originally thought. Romantic… Get Your Horoscope >>
Discover Your Love Horoscope Compatibility
Is romance and love on the table in your relationship? Whether it's your current partner or someone you have feelings for, your zodiac sign can tell you so much about your love life.
Find out how compatible you and your love-interest are!
Love & Astrology Articles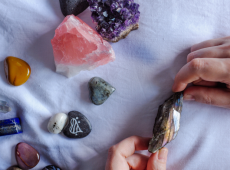 The sociable, quick-witted, and intelligent folks born in the sign of Gemini tend to have brilliant advice-givers among them. If you have a problem, turn to a Gemini, and a… Read Full Article »
Do you have any buried feelings that need to be revealed or creative ideas that are begging for your attention? Then the stars are here to help you release and move forward into… Read Full Article »
Have you ever noticed how some people go out of their way to avoid confrontation while others seem to get a kick out of stirring things up? Everyone responds to conflict in a… Read Full Article »
Daily Horoscopes
Enter your email address below to receive your daily horoscope directly to your inbox.
Your email will be used to send you your free astrological reading, along with ongoing communications regarding your zodiac sign.
x